Known for romance and passion, South America offers a host of romantic destinations to share with the one you love most. With dazzling glaciers, emerald rainforests, extensive deserts, and dreamy islands – this enchanting continent is a picturesque destination for a truly unforgettable romantic getaway.
These destinations aren't your standard candlelight dinners and long walks on the beach. At Good Life Expeditions, we design authentic and immersive travel experiences and these retreats are no exception. Cuddle up under the stars in the desert, tango across the dance floor, or sail through the jungle. No matter which expedition you choose, our expert travel team can customize it to suit your taste and travel style.
Keep reading for our top recommendations – whether it's for your honeymoon or a much needed romantic getaway, we have the perfect expedition for both of you. Contact us to plan a trip to your favorite romantic destination today!
Belmond Andean Explorer: Luxury Exploration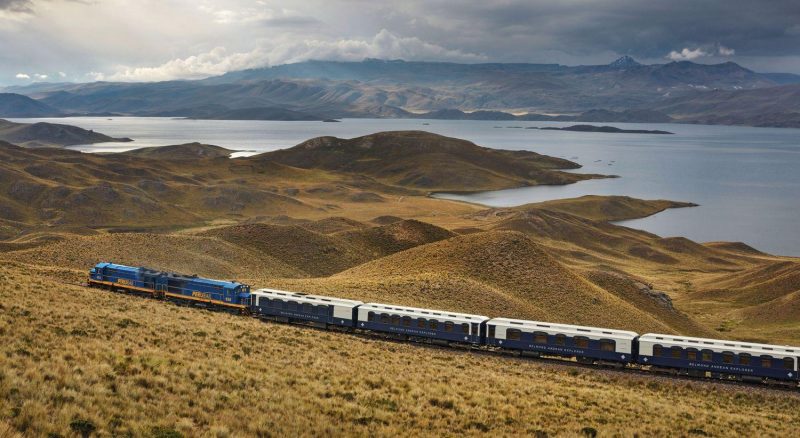 Consider a romantic ride aboard South America's first luxury sleeper train. This nostalgic form of transportation crosses some of the most remote parts of the Andes Mountains, taking you to places that are completely inaccessible otherwise. The train runs between Cusco and Arequipa, starting at either end for a two-night journey. For a shorter trip of just one night, you can board or disembark in Puno, between the two on the shores of Lake Titicaca.
Taste delicious Pisco Sour to the sound of live piano music in the evenings aboard the lounge car, or head to the open deck to breathe in the fresh mountain air hand in hand with your love. There's even a spa car offering massages and other treatments.
The train makes stops in secluded spots like at La Raya, the highest point in the journey – with no station or sign of civilization for miles, offering the chance to appreciate the tranquillity and beauty of the high Andean plains. The staff serves hot drinks as the sun sets over the mountains, a peaceful moment for you both to share. The journey is also perfect for a special occasion as guests have the chance to add extra touches like fresh flowers and champagne to surprise a loved one.
Buenos Aires: Electric Energy and Tango Dancing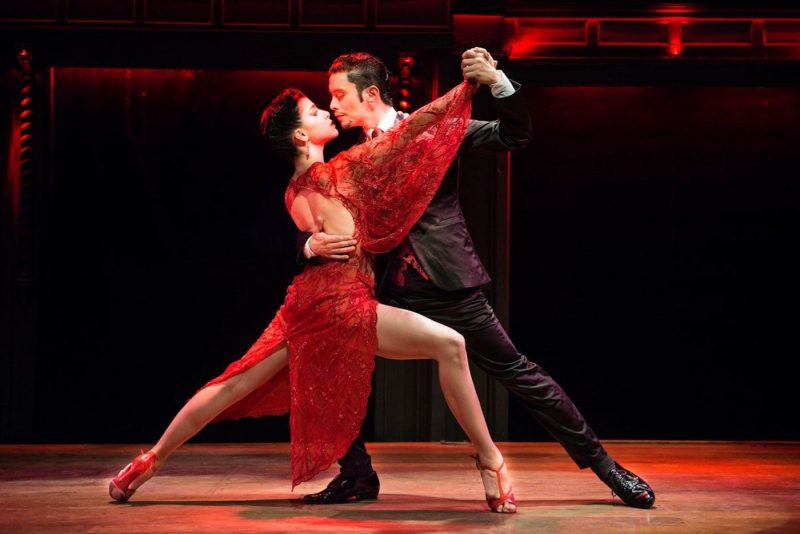 Known as the "Paris of South America," let this other city of love take you for a spin. In Buenos Aires, dancing tango is a must. This sultry step is Argentina's national dance and you would be remiss not to learn it while enjoying the city with your loved one. Whether you attend a dance class or enjoy a tango show as part of our Buenos Aires Getaway, you'll appreciate the beauty and passion of this iconic dance.
Even when you're not swaying to the music, there is something to explore! Buenos Aires is a vibrant capital city and a cosmopolitan cultural hub of Latin America. Bursting with incredible history, culture, and nightlife all packed into an eclectic collection of neighborhoods, it is alive 24/7. Discover historic outdoor cafes and barbeques – famous for their Argentine meat and Malbec wine. Tour any of the unique neighborhoods, from the cobblestone streets of San Telmo to the colorful buildings of La Boca. No matter where you go, you'll have plenty of opportunities to snap beautiful photos together!
Amazon Riverboat Cruise: Romance in the Rainforest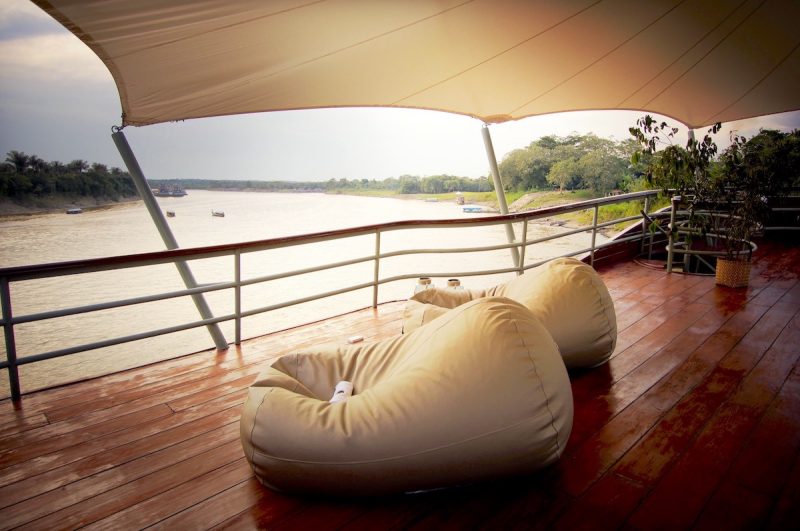 It goes without saying that from the breathtaking sunrise to the clear starry night sky, the Amazon rainforest is full of unique and astounding picture-perfect romantic moments. Journey through the lush forest aboard the R & F Amazonas – an intimate river expedition vessel, which offers an unforgettable experience navigating the Amazon River.
From dawn until dusk, you have the option of participating in various Amazon jungle excursions and activities. Create beautiful memories together as you hike through the rainforest spotting wildlife. You can also spend time with some of the native tribes. Watch cultural dance rituals, and maybe learn a few moves. In the evening, learn a new skill together during a bartending class where you'll learn the history and distillation techniques of Peru's signature drink, Pisco.
However, all excursions are optional. If you prefer to relax in your private suite, you can enjoy large panoramic windows offering views of the river.
Galapagos Islands: Nature's Paradise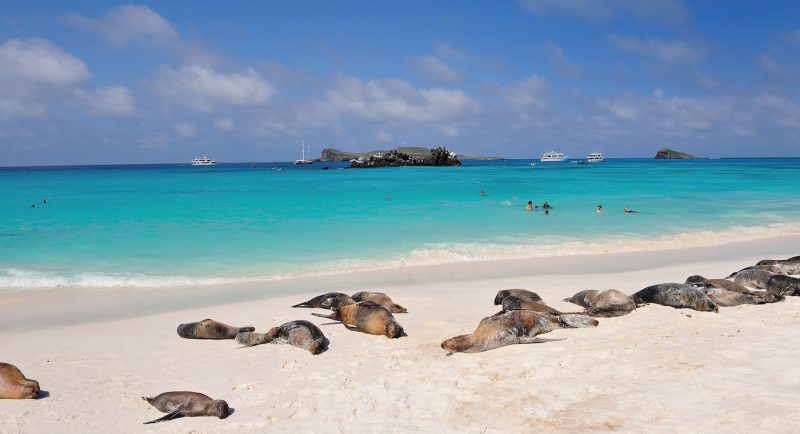 While the Galapagos Islands may have been the source of Charles Darwin's scientific inspiration, they also serve as an inspiring getaway for the nature-loving couple. Few places on earth have as much to offer in terms of natural beauty, rare wildlife, pristine ecosystems, and paradisiacal waters than the Galapagos Islands. The Enchanted Isles are filled with incredible sites that you and your loved one can explore.
Whether you opt for a luxury cruise like the M/Y Grace or an all-inclusive land package at Pikaia Lodge, you'll have plenty of opportunities to share special moments with the love of your life. Take a nature hike or snorkel with sea creatures during the day, and watch the sunset over the ocean. Swim among schools of brightly colored fish as you snorkel off the coast of Santa Fe Island. Or, hike to the top of Pinnacle Rock – one of the most iconic Galapagos sites on Bartolome Island.
After fun-filled days in paradise, spend the evenings relaxing on the beaches of the Pacific Ocean listening to the waves crash against the rocks and roll across the shore.
Paracas: Desert Oasis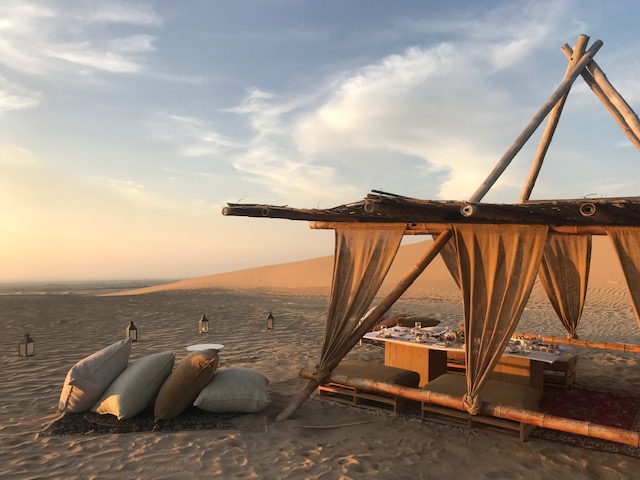 While Paracas is filled with romantic possibilities – like a cruise around Ballesta Island or sunbathing on hidden white sand beaches – our top pick is a Desert Magic dinner. Spend the evening dining alone in the middle of gorgeous desert sand dunes at sunset. You and your loved one will be picked up at your hotel and transferred to the AdrenArena sand park. This sandy paradise is filled with breathtaking views, and sloping dunes hardly visited by travelers. Hop into an open-air dune buggy, and take off on a thrilling ride!
You'll arrive at your private picnic site just in time to watch the sunset. As the light fades over the horizon, enjoy a cocktail before dining on delicious appetizers. Your hand selected music will play in the background. Millions of stars will start to dot the night sky as you enjoy your evening in the desert.
---
Where would you like to travel with the love of your life? Let us know!
Our expert travel team is ready to create the perfect customized romantic itinerary, depending on your preferences. Contact us today.