Perched on top of two extinct volcano craters, Pikaia Lodge gives its guests a spectacular view of the Galapagos Islands anytime day or night. Conveniently located in the center of the Archipelago, the lodge's over 76 acres (31 hectares) of property and private wild giant tortoise reserve can be found on Santa Cruz Island. You can easily incorporate it into Good Life Expeditions' Enchanted Peru, Ecuador, & Galapagos itinerary.
Immersed in Natural Beauty at Pikaia Lodge
The lodge offers 14 gorgeous rooms. Every room includes floor to ceiling windows and breathtaking unobstructed views. Situated on top of the small plateau above the main crater, there are twelve Terrace and Balcony rooms. Decorated in a contemporary style, rooms are furnished with either two queen size beds or one king size bed.  Guests also have the option to book the Private Garden or Pool Suites. Also featured: an aqua blue infinity pool overlooking the horizon — a great place to lounge and watch the sunset. Sunbathe, read, or take a nap on one of the surrounding decks or under a covered gazebo with two sofas.
Guests can also enjoy delicious gourmet meals at the Evolution Restaurant while overlooking the natural expanses surrounding the lodge. If you look closely, you can even spot some other islands in the archipelago. The restaurant serves an American-style breakfast buffet and a specially designed lunch menu. Guests will enjoy a three-course meal with a fusion of Peruvian and Ecuadorian cuisines for dinner. Select a wine accompaniment from the walk-in wine cellar with the Maître's advice to enhance your gastronomic experience. After an action-packed day in the sun, unwind in the Sumaq Spa or sip on a cocktail at the Lobby Lounge and DNA Bar.
Exploring the Galapagos
Pikaia Lodge has a unique concept designed for environmentally conscious, physically active, and adventurous travelers with their land-based itineraries. Choose between three, four, five, six, or seven-night programs. Start by exploring Santa Cruz, where you can visit the Charles Darwin Research Station. The center also has a breeding program for endangered giant tortoises, which live wild in El Chato Reserve. Then explore the underground lava tunnels and learn about how they were formed. For a relaxing afternoon, take a short walk to Tortuga Bay Beach and lounge on the sand.
Guests also have the option to join full day marine excursions. Travel in the marine programs will utilize the lodge's private yacht, M/Y Pikaia I. Due to its size, weight, and stabilizers, passengers will enjoy a smooth ride. Take a morning hike or snorkel with sea creatures during the day, and watch the sunset over the ocean on your way back. As you return to the hotel, relax in one of the yacht's private air-conditioned cabins and take a fresh-water shower in the ensuite bathrooms, or soak in the final rays of sun in the on-deck jacuzzi. Land and yachts explorations itineraries will vary according to arrival dates, and all tours are subject to availability based on weather.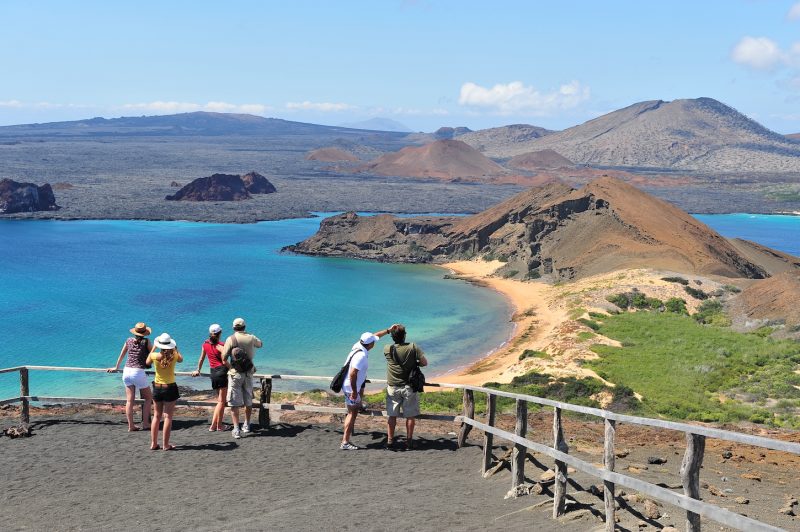 Galapagos Travel with Good Life Expeditions
To stay at Pikaia Lodge as part of an unforgettable trip to the Galapagos islands, let our expert team at Good Life Expeditions create the perfect itinerary for you, and take care of all the details. Our expert travel team is ready to assist you, so contact us today.