If you're going to visit one of the most uniquely biodiverse regions in the world, shouldn't your cruise be just as unique? Explore the Galapagos Islands aboard the M/Y Grace, whose notable passengers over the years include Sir Winston Churchill, Grace Kelly, and Prince Rainier III of Monaco.
M/Y Grace: A Ship of Stories
This elegant yacht claims one of the most extensive histories among Galapagos boats. Built in 1928, the vessel was used by the chairman of the Prudential Insurance company in Britain's Southampton and later conscripted into the navy. In 1956 it was gifted to Grace Kelly and Prince Rainier III as a wedding present, which they used on their seven-week honeymoon.
However, the yacht is not only notable for its heritage, but also its size. With a capacity of 18 guests in nine cabins split across four decks, the M/Y Grace is a small boat measuring only 147 feet in length. It can maneuver in some of the most remote nooks and crannies of the islands, where larger vessels cannot reach or would disturb the wildlife. With comfortable lounging options ranging from a top deck sunbathing area to the yacht's jacuzzi, there is a spot on board for everyone to relax.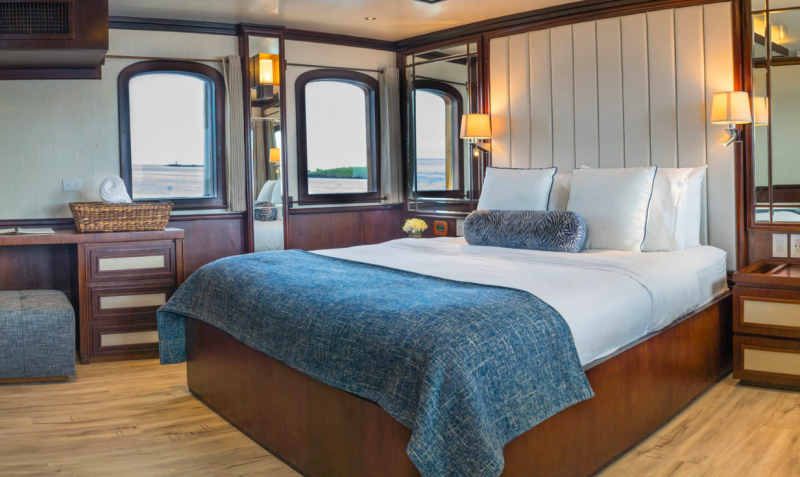 Providing a personalized experience is a point of pride aboard the M/Y Grace. The friendly and welcoming staff is ready to assist you with anything you may need. Guests can also take comfort in the positive environmental impact they have while sailing on the M/Y Grace. Your cruise experience eliminated single-use plastics from all trips, including plastic straws, single-use disposable soaps, and single serving edible products.
Activities and Excursions Aboard
The M/Y Grace offers two different 7 night / 8 day itineraries, departing from either San Cristobal or Baltra Islands. Visit the archipelago's largest island, Isabela. Spend some time in Urbina Bay, located at the base of Alcedo Volcano — one of five volcanoes comprising the island. Check out a variety of turtles, ray, tropical fish, and the largest land iguanas in the Galapagos. If you head to Floreana Island, you'll get to explore Cormorant Point. This site offers two contrasting beaches: one with green sand due to the presence of olivine crystals, and Flour Beach, made from pulverized coral. Visitors can also spend time at the flamingo lagoon, watching the large pink birds searching for shrimp in the mud. Note, not all sites are included on both itineraries.
No matter which tour you take, there are opportunities to snorkel almost every day at various sites around the islands. Swim with playful sea lions, sea turtles, and many other species of exotic wildlife. Both itineraries also offer daily dinghy rides to visitor sites aboard inflatable expedition zodiacs. A comfortable nine guest limit per zodiac will tour along the coastlines, getting access to secluded coves and mangrove estuaries. This is a great excursion to see volcanic formations and a variety of marine wildlife up close.
Travel Responsibly with Good Life Expeditions
Embark on your next expedition with Good Life Expeditions on our Enchanted Peru, Ecuador, & Galapagos itinerary. Our expert travel team will take care of all the arrangements, from transfers to cruise reservations and more. We offer the chance to travel with the confidence that you're making a direct and positive contribution to the places and people you encounter. To plan your next responsible travel experience, contact us today.