Traveling together creates a special bond – and it's the perfect way to celebrate Mother's Day with the Travel Mom in your life!
From epic treks through Torres del Paine to lazy days relaxing on Brazilian beaches to traversing the magical Galapagos Islands, we've shared a lot of special moments traveling with our moms – and you can too! Keep reading for some of our favorite Travel Mom moments.
Once you're done, contact our expert travel team to start planning a transformative expedition with your mom!
The History Buff Mom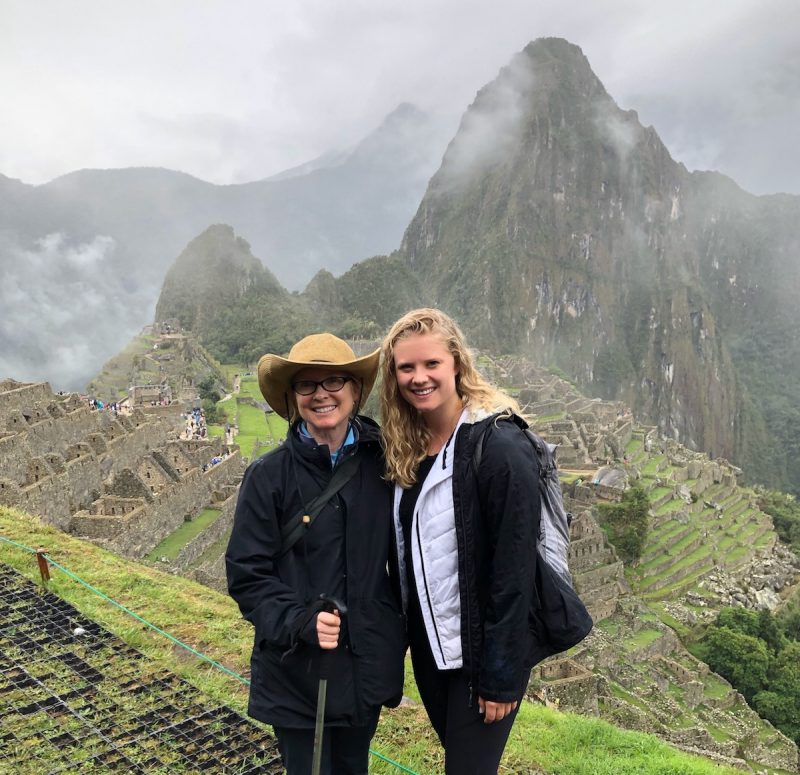 "Ever since my Mom caught the travel bug she has been game to grab her passport and go. Sharing the jaw-dropping vistas and exploring the ancient archeological sites of Peru's Sacred Valley was incredible. Her endurance and strength climbing Machu Picchu Mountain blew me away. But nothing could beat sitting next to her by the fire sipping on Pisco Sours and talking under the starry Cusco night."  
– Erin S. 
Machu Picchu and the Sacred Valley
Spend a week making memories with your mom following the same paths as the ancient Inca tribes and gain a deeper understanding of Peru's ancient history and culture on a Machu Picchu Getaway with your mom! From popular sites like Machu Picchu to lesser-known gems like Wiñay Wayna, there's no shortage of ruins to discover. In the Andes Mountains, the pair of you will be surrounded by striking landscapes, ancient monuments, and rich history for an unforgettable adventure.
The Beach Mom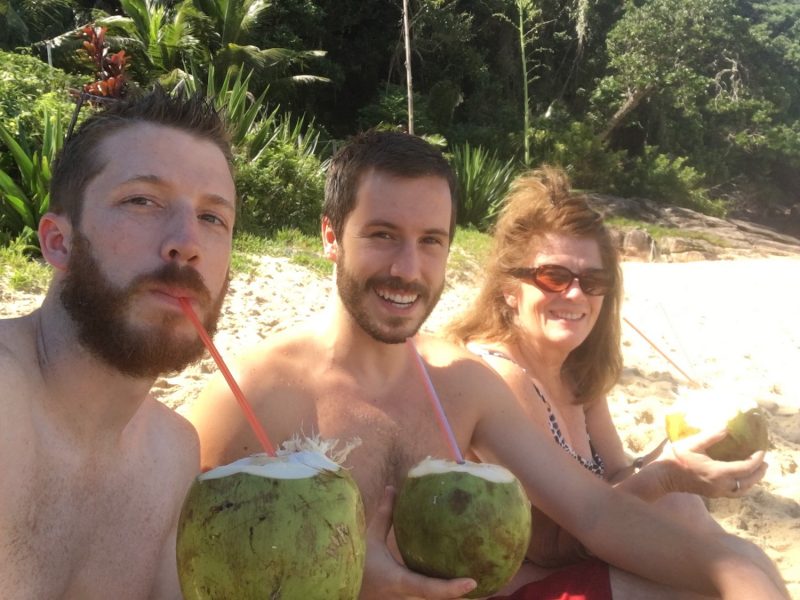 "'Sit Still' – these two words are the antithesis of everything my Mother represents. Throughout my entire life, she has always had a passion for being constantly in motion both physically and geographically. Early in life, she pushed all of us to travel, live, and study abroad as much as possible. Fortunately for her, we listened! Now as we are all older, our new favorite locations to visit are the beaches of Brazil! As she has one son in Brazil and the other in Peru, the best way for us to get together has been to skip out on the snow and ice of a Vermont winter and trade it in for the warm beaches and cold coconuts!" 
– Tim A. 
Brazilian Beaches
With epic shorelines stretching for miles, celebrate the beauty of Brazil with your mom. Head to Buzios and Ilha Grande beaches as you explore remote bays on a boat, hike to hidden oases among wild trees and animals, or surf perfect waves before relaxing in the sun – whatever activities you and your mom enjoy, they're available on a Brazilian Beach Adventure.
The Metropolitan Mom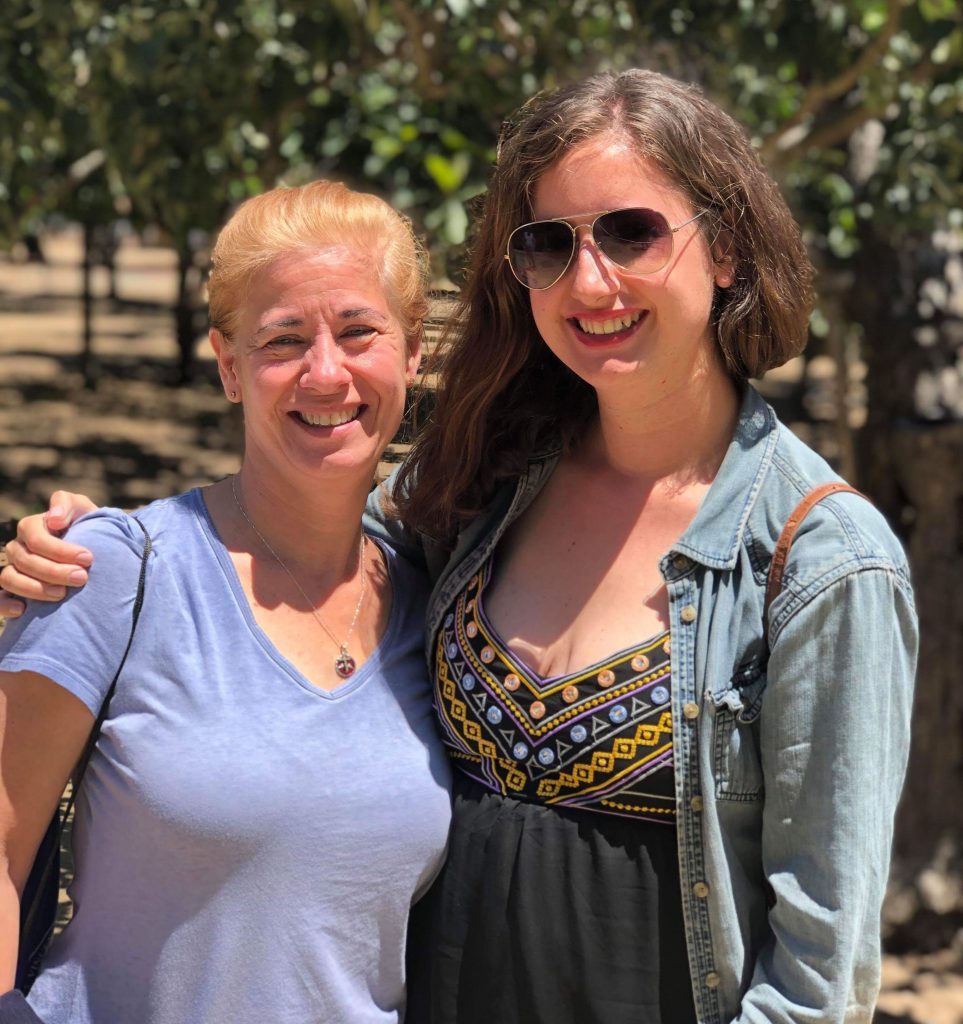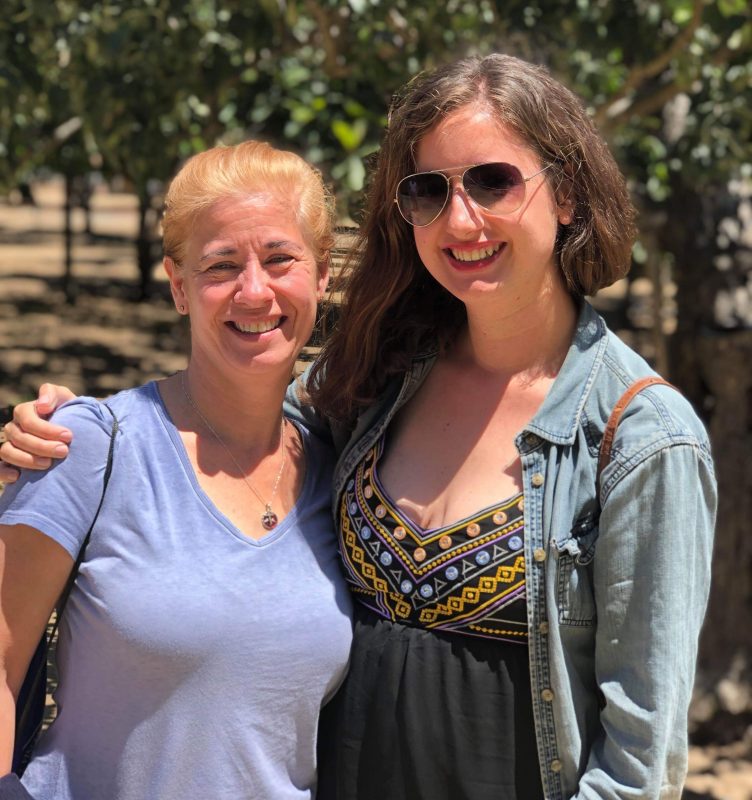 "From a very young age my Mom instilled in me a love of adventure and to this day we are both always game to try something new. Discovering new parts of the world with her is a blast – no matter what we do we always have a great time. When we traveled to Chile, we covered a whole gambit of activities, from discovering urban street art tucked in the alleyways of Valparaiso to admiring brightly painted neoclassical mansions to climbing sloping sand dunes in Viñas del Mar to sampling the best wines from the Casablanca Valley. Like all of our trips, every moment was jam-packed with laughter and fun." 
– Lindsay M. 
Chile's Capital
Culture courses through the streets of Santiago. From expansive museums to highly rated restaurants – this capital has it all, so you and your mom are sure to find something you both love! Surrounded by stunning mountain views, you can spend a day discovering a diverse collection of neighborhoods or enjoy the gorgeous hillside parks that punctuate the city's landscape. The pair of you can also head to nearby Valparaiso and Viñas del Mar, two of Chile's famous port cities. A Santiago Highlights expedition is an adventure filled with many different excursions you'll both enjoy! 
The Wildlife Enthusiast Mom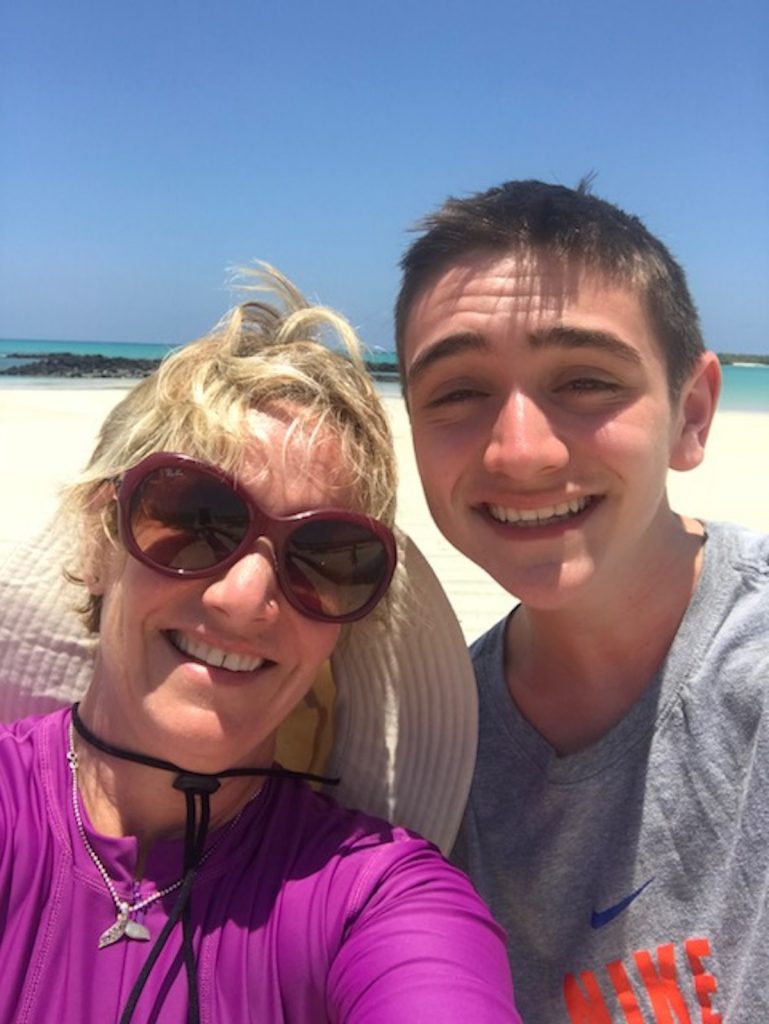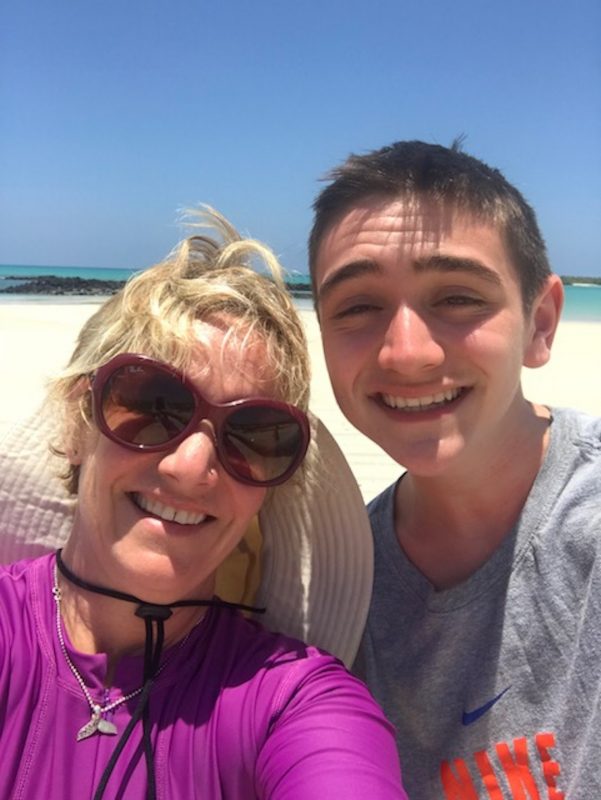 "My Mom and I are really busy when we are at home, but we always have a really good time together when we are on vacation. South America is really cool because we are both fluent in Spanish, but everybody spoke English just about everywhere we went. One awesome memory I have from the Galapagos was watching a pelican dive five yards away from us while we were kayaking, surfacing to the top of the turquoise-colored water and 'gulping' a fish down while staring at us. I hope she keeps taking me on these awesome trips even after I graduate from high school."
– Noah G.   
Galapagos Islands
Head on a once in a lifetime adventure with your mom on a visit to the Galapagos Islands. The isolated archipelago can be found 500 miles off the Ecuadorian coast, in the middle of the Pacific Ocean. Share some time one-on-one time with your mom as you discover the Islands' most famous inhabitants: giant tortoise, marine iguanas, giant cacti, endemic trees, the blue-footed booby, and several species of finch, all of which you can witness on an Enchanted Peru, Ecuador, and Galapagos expedition.
The Adventure Mom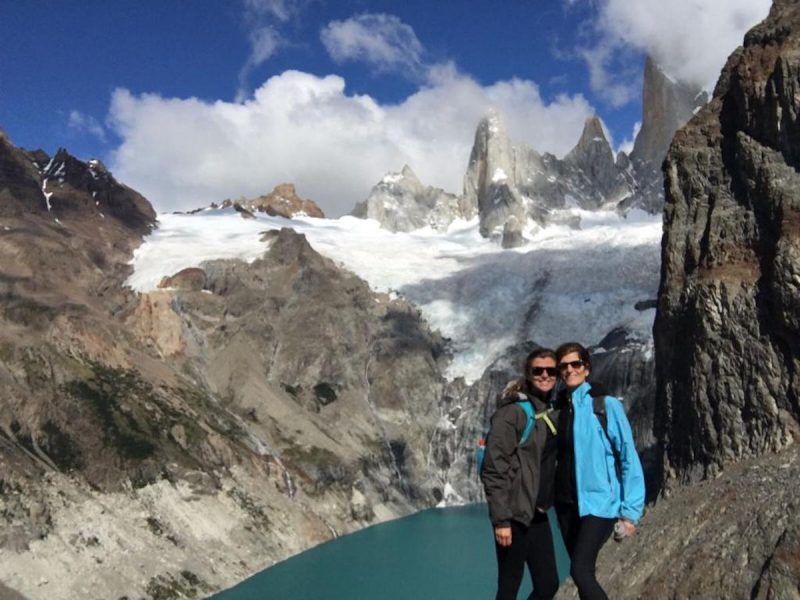 "I always say that on my trip to Patagonia I traveled with the 2 best moms in the world – Mother Nature and mine. Jaw-dropping jagged mountain peaks. Stunning turquoise blue lagoons. Seemingly endless trails, sparse with happy hikers. Beyond all of these classic reasons to visit Patagonia, I can give you a million more why it is the best place to go with your mom. 

These incredible mountains are located at just above sea level – a rarity for iconic hiking destinations. There are a variety of accommodation levels from camping (of course!) to cozy cabins to luxury eco-lodges. There are endless ways to spend your days such as hiking, boating, to glaciers, or relaxing at the spa. And most of all, it offers special one-on-one time in possibly the most beautiful place on earth. Patagonia is a once in a lifetime destination and a great option for all types of travelers, especially moms and their kids. 

Happy Mother's Day to all the adventure moms of the world!" 

– Caroline A. 
Torres del Paine, Patagonia
A trip to Chile is incomplete without visiting the country's pristine national park – Torres del Paine. Tackle this magical adventure with your mom on a Patagonia Expedition. This national park at the end of the earth truly has everything a nature lover could want. Featuring dazzling blue lagoons, wind-carved mountains, and dense forests, the breathtaking scenery is like a fairy tale. Snap some photos or live in the moment as you make memories with your mom that will last a lifetime.
The Culture Seeking Mom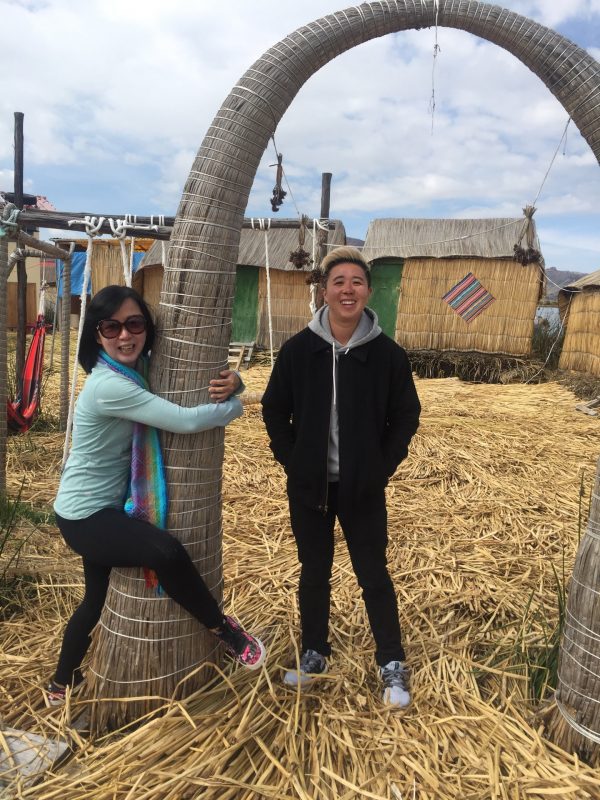 "It definitely wasn't the first time I traveled with my mom, but this trip was particularly special since it was her first time in Peru (and South America) and her parents were here too. That being said, we definitely do have moments where we want to rip each other's heads off. However, being able to enjoy the diverse landscapes and amazing food that Peru has to offer definitely makes all the madness worth it. Nothing beats laughing until you're crying and can't breathe with your mom…it's just better when you're doing in a beautiful place!"
– Lisa C.  
Lake Titicaca
For a truly unique adventure, travel with your mother to Lake Titicaca: the highest navigable lake in the world. Often compared to a small ocean, it is difficult to see the shore from one side to the other. Embark on an expedition with your mom to discover several islands – the unique floating Uros Islands, made entirely of reeds, and Taquile Island, known for its weaving traditions – on a Lake Titicaca Extension. The shores and islands of the lake are dotted with ancient ruins and vibrant communities just waiting to be explored.
---
Feeling inspired? Contact us to plan the perfect expedition for your Travel Mom!