Written by Lindsay Mahaney, Good Life Expeditions Marketing Associate. 
When you're visiting one of the most biodiverse ecosystems on the planet, it's important to think about how you want to experience it. On the Galapagos Islands, you have two options: Galapagos cruise or land tour. At Good Life Expeditions we have tried and tested all of the top Galapagos experiences and we're here to help you decide which option is better for your transformative trip!
With 6 main islands, 12 smaller islands, and over 40 islets, all teeming with rich natural wonders, there is no wrong way to explore the Galapagos Islands. Both Galapagos cruise and land tours offer the opportunity to see incredible wildlife and fill your days with fun activities everyone will enjoy. No matter what you choose, you'll be sure to have a great experience on your trip.

Traverse the Galapagos Islands with a Land Tour
Opting for a land tour has many great benefits. If you're not too keen on spending a lot of time on the water, a land tour is clearly a winner. You won't have to worry so much about sea conditions – which are usually rougher from June to November and they are also a great option for families with young children, as kids would have the freedom to run around and explore at an eco-hotel, like the Galapagos Safari Camp. The hotel is designed as an eco-luxury tented camp, making for a fun stay for both kids and adults.
Activities are another consideration for visitors when deciding which trip style to choose. Diving excursions in the Galapagos are organized almost exclusively via land tours. Staying on land also gives visitors more opportunities to immerse themselves in the islands' natural habitats as well as delving deeper into the cultural history and day to day lives of the nearly 30,000 human inhabitants on the islands. Spend evenings dining at coastal village restaurants and shopping at locally owned shops while learning from locals about their beautiful island home.
Another great benefit: there are often entire days blocked out for guests to explore the base island on their own time. With a land-based itinerary at the Pikaia Lodge, visitors can hit all the great highlights of Santa Cruz, really getting to know the island's habitats and species that live there. Start your day at the Charles Darwin Research Station following the path of Charles Darwin before heading to the El Chato Reserve with its breeding program for endangered giant tortoises. Then spend an afternoon exploring the underground lava tunnels or take a short hike to Tortuga Bay Beach. In addition to the roaring blue waves, check out the marine iguanas that live on the beach. The whole day is yours to explore at your leisure.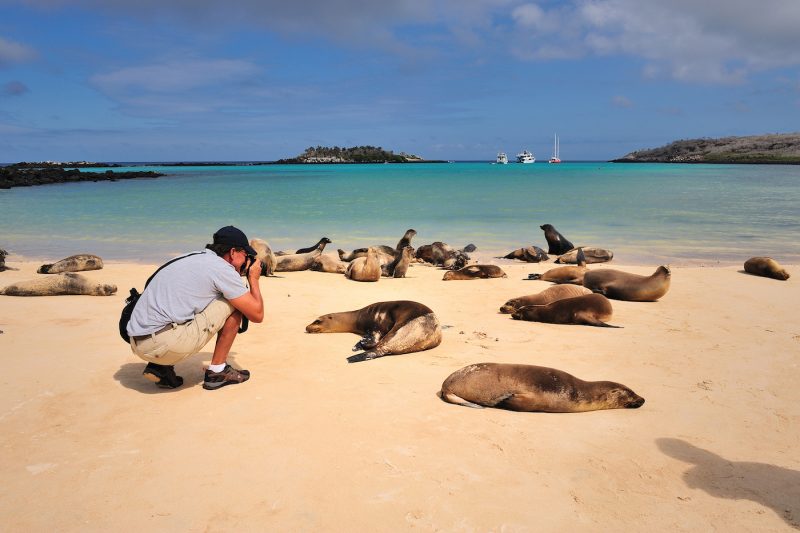 Sail between the Galapagos Islands on a Cruise
The traveler with a taste for variety may prefer a Galapagos Cruise. Every morning you can watch the sunrise over a different island! While the boat sails through the night, passengers can sleep while being transported to new, exciting locations. The Galapagos Legend is a quick motorized vessel that offers an easy ride between islands, no matter the weather. The trimaran has itinerary options with up to 12 stops at different islands around the archipelago spanning across five days and four nights — our recommended trip length.   
While either a Galapagos cruise or land tour will give travelers opportunities to get within arm's reach of Galapagos penguins, flamingos, sea lions, and more incredible species, a cruise will cover a lot more distance. It stands to reason you'd see a lot more wildlife with this option. Remember, Charles Darwin discovered each island has endemic habitats and animals. For example, Galapagos Flamingos are typically found on the western islands of Isabela, Rabida, Santiago, and Floreana, while Red-footed Boobies are usually only found on the eastern island, San Cristobal. With a cruise, you could easily see both.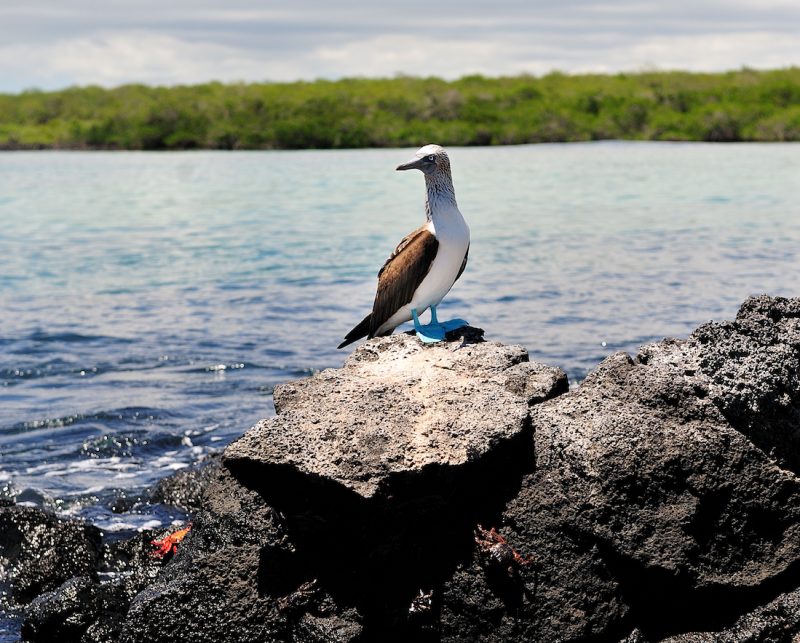 Not to mention, the M/Y Grace can maneuver in some of the most remote nooks and crannies of the islands. An excursion aboard this cruise would offer the opportunity to see some unique wildlife species not available in any other itinerary option — land-based tour or cruise!
Another perk to a Galapagos cruise is the personalized attention you'll receive from the crew and naturalist guides. Small vessels like the Petrel Catamaran accommodate only 16 passengers. With a nearly 1:1 crew to guest ratio, the boat staff can attend to travelers quickly. Questions about the wildlife you experienced on the excursion earlier during the day? A naturalist guide is onboard, ready and available to answer it.  
Tips for Planning a Galapagos Trip
Whether you choose a Galapagos cruise or land tour, we have some helpful tips to prep you for your adventure!

Flights
Before arriving at the Galapagos Islands, you must first fly to mainland Ecuador to either the capital city of Quito or Guayaquil. The islands are closer to Guayaquil, so if you are heading straight to the islands, fly here to save time! Most flights from Quito will have a layover here anyways.
Galapagos Entrance Requirements
The Galapagos Islands are a heavily protected natural environment and national park. To enter, all adults must pay for a Transit Control Card (TCC) of $20 USD and a Galapagos National Park fee of $100 USD (adults and children over 12) / $50 USD (children under 12).

There are also strict regulations of what you can bring to the islands — you will be carefully searched for prohibited items including fruit, vegetables, meat, dairy, soil, seeds, etc.
Rules and Regulations
In an effort to sustain the Galapagos Islands, The Galapagos National Park Directorate (GNPD) and the Ecuadorian Ministry of Tourism have prepared a list of environmentally conscious rules and regulations. From respecting the wildlife to picking environmentally friendly methods of transportation, your choices will make a difference in the long-term sustainability of the islands.

Be sure to review the complete list before your trip here.  

Weather
While the Galapagos Islands are a year-round destination, there are a few things to keep in mind when booking your trip. Ringing in the New Year on the Galapagos Islands includes a mix of sunshine as well as light rain. While only a short light drizzle, it's usually a daily occurrence from January through May. However, this is also the time of year when green turtles lay their eggs.

For beach lovers, we recommend the warmest time of year: February to May. Both sea and land temperatures are at their highest during these months. This time of year is also the season of love — many of the island's land birds, sea lions, turtles, and tortoises use this season as their breeding or nesting time.

The slightly colder climates found June to November bring an abundance of seabirds, like albatross and penguins, searching for the abundance of plankton and nutrients that thrive in the cooler temperatures. July is also the mating season for blue-footed boobies, particularly on Española Island. Travelers should note, July through September is when the cold Humboldt Current arrives and brings rougher conditions.
August and September are dry but relatively cooler. By October temperatures will start to rise with December kicking off the start of the giant tortoises hatching season.
Seasickness
To fully explore all the protected regions of the islands, even visitors opting for a land tour must ride in a boat that ferries them from port towns to the designated viewing areas. For this reason, any traveler prone to seasickness should pack for motion sickness remedies. Ask your doctor ahead of time what medication, patch, or wristband would best help combat your seasickness.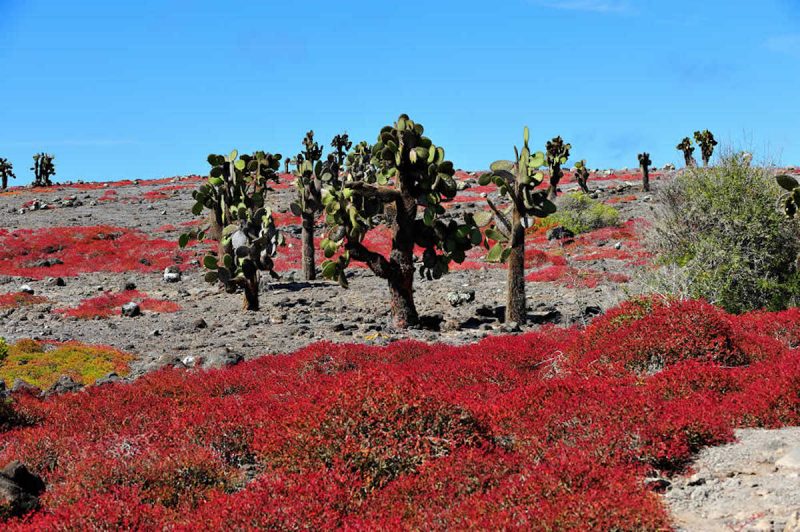 Activities
The highlight of any itinerary — Galapagos cruise or land tour — is snorkeling. Experience the incredible underwater habitats and wildlife of the sea first hand. Unlike Scuba Diving, snorkeling does not require certification. However, due to the nature of the Pacific Ocean and the currents around the islands, as well as conservation concerns about the reefs, you will receive a briefing before your activity.  
Paddling along the Galapagos shoreline in your sea kayak is another incredible way to discover marine wildlife. Explore secret coves, mangrove estuaries, and stunning beaches. Keep an eye out for Galapagos penguins, sea turtles, and sea lions swimming by! Note you do need to have permission to sea kayak in the Galapagos from the Galapagos National Park. Be sure to review the guidelines before you go.  
While water activities are often the focus of Galapagos trips, there are plenty of options on land too! Take a hike up the Sierra Negra Volcano, one of fives active volcanoes located on Isabela Island. Sierra Negra is the only volcano visitors can hike and is only accessible with a guide. The trip is roughly 5 to 6 hours roundtrip and can be strenuous at times due to the distance and intense heat of the Ecuadorian sun. Visitors up for the challenge will see breathtaking seascapes and volcanic rock formations.  
FAQs
For more information, check out our Ecuador and Galapagos FAQ page here!
Experience the Galapagos Islands with Good Life Expeditions
No matter your preference, there are lots of incredible land-based tour or cruise options to discover the Galapagos Islands. Embark on the adventure of a lifetime with one of Good Life Expedition's customized itineraries today.
Include a Galapagos cruise or land tour as an add-on to a Service Learning Trip with MEDLIFE or as part of a specially designed trip to Ecuador. A trip to the islands can be easily coupled with a tour of Ecuador's mainland. Spend some time exploring the excellently preserved architecture of Quito, a UNESCO World Heritage Site, or hiking and biking through the beautifully biodiverse Mindo Cloud Forest. Our expert travel team can advise on the best route and options for your excursion and can take care of all the arrangements. Contact us today to start planning your memorable trip to the Galapagos Islands.