The Galapagos Islands are home to many unique ecosystems. Discover them for yourself aboard a Petrel Catamaran cruise with Good Life Expeditions.
Petrel Catamaran Galapagos Cruise
Named for the popular island seabird, the Petrel is a motorized catamaran styled for speed and stability. The three-tiered ship accommodates 16 passengers in nine comfortable rooms. With simplistic decor, the rooms include modern amenities and private balconies to enjoy the view.
Ample space is also available in common areas. After a long day of excursions, take a dip in the jacuzzi on the top sun deck. Watch the sunset while sipping on a cocktail from the full-service bar. When the sun gets to be too much, passengers can spend time in the shade on the porch at the back of the boat or the indoor lounge area. If you prefer some quiet time to unwind, curl up with a book in the ship's reading room located at the front of the boat. Kayaks, wetsuits, and snorkeling gear are also available onboard for guests to use at their leisure.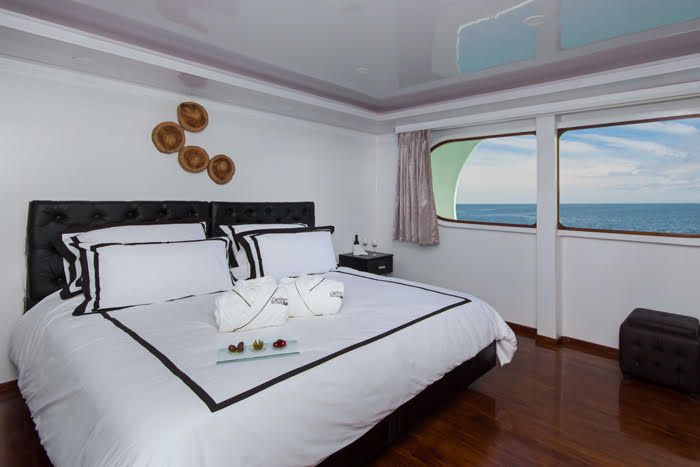 Activities and Excursions aboard the Petrel
With four, five, six, and eight-day itineraries, you'll be able to visit many of the biodiverse habitats throughout the archipelagos 18 islands. Maybe start your exploration on North Seymour Island. This northern island was formed by submarine lava containing layers of sediment uplifted by tectonic activity. Most known for its arid vegetation, you can spot sea lions, blue-footed boobies, frigatebirds and more in abundance on the island.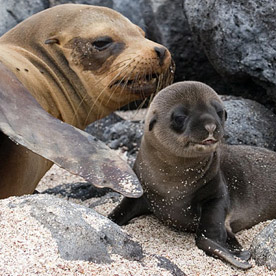 Another day, you could head to Isabela Island. This is the largest island, and arguably the most beautiful. First on your to-do list: Tintoreras Islet. White-tipped reef sharks, penguins, marine turtles, and sea lions inhabit the crystal clear turquoise waters. Check out the beautiful beaches and spend some time swimming or snorkeling. If land excursions are more your style, take a hike up the Sierra Negra volcano. It is one of five volcanoes on the island and boasts the second largest caldera in the world. Don't forget your camera, because the views from the top are breathtaking. Be on the lookout for seven different species of finch that frequent the area.
Discover the Galapagos Islands with Good Life Expeditions
Immerse yourself in the natural oasis of the Galapagos with Good Life Expeditions. We offer the chance to travel with the confidence that you're making a direct and positive contribution to the places and people you encounter. Let our expert travel team help you plan your Enchanted Peru, Ecuador, & Galapagos trip, and contact us today.