Written by Caroline Appert, Good Life Expeditions Marketing & Content Executive. 
5 days of magic. That is the easiest way to describe my recent Galapagos experience aboard the Galapagos Legend Cruise Ship. I was lucky enough to embark on an immersive journey around the southern islands of this archipelago and can't wait to share why you should take a trip as well.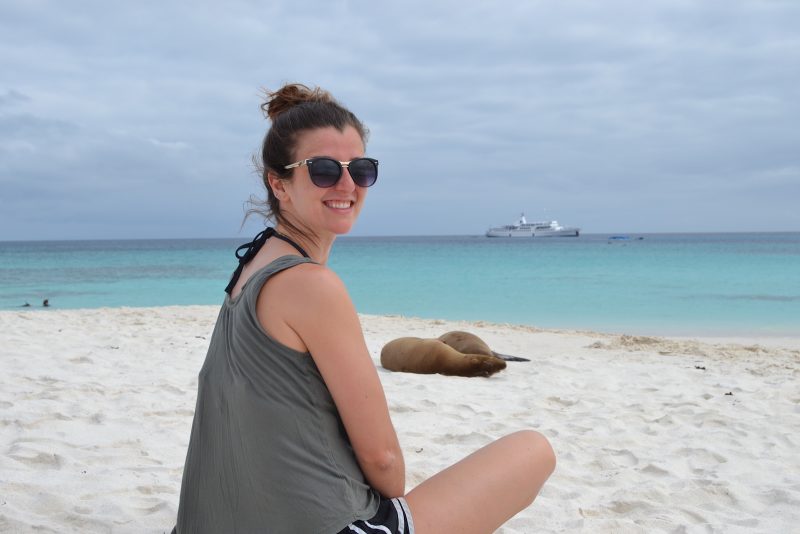 A Bucket List Destination
The Galapagos Islands are an archipelago of volcanically formed islands about 563mi (906km) off the coast of Ecuador. Known by locals as las islas encatadas, or the enchanted islands, they are a hub of biodiversity with many plant and animal species that cannot be found anywhere else in the world. The confluence of three different ocean currents, consistent seismic activity, and the natural isolation make this set of 19 different islands so unique that they inspired Charles Darwin's theory of evolution by natural selection in 1835
I have had the Galapagos Islands on my bucket list since I saw the baby sea lions in photos during a class in elementary school. I remember thinking 'how could a place with this many cute animals, story-book like landscapes, and perfect weather really exist?' But let me tell you it does, and it will surpass all of your high expectations.
Majestic Galapagos Experience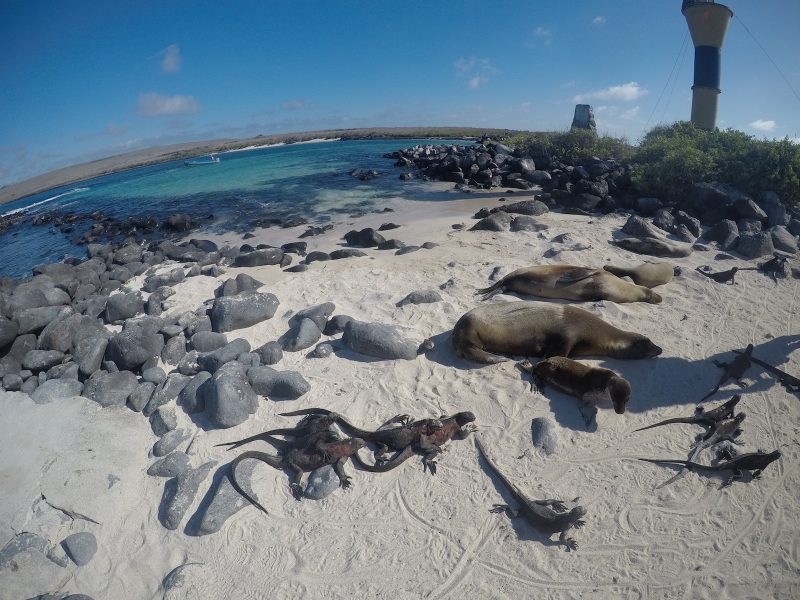 For my journey, I was able to spend 5 days / 4 nights aboard the Galapagos Legend Cruise Ship. Not only is this the largest ship allowed to maneuver through the archipelago, but it is also the fastest. That means plenty of outdoor and social areas aboard during navigation, but also more time spent on the islands.
My Galapagos experience began with a morning flight departing from Quito, the charming colonial capital of Ecuador. We had a brief stopover in Guayaquil to pick up more passengers and then headed to our destination – San Cristobal Island. The expert naturalist guides from the Galapagos Legend were waiting for us at the airport, and we efficiently headed to the dock for our first glimpse of the boat. A staggering sight amongst crystal clear waters, I practically tripped over sea lions getting onto the panga, or small boat, that would take us to our cruise ship.
Onboard there was a gorgeous buffet lunch awaiting us, the wait staff completely attentive and ready for whatever special request we had. And so began our journey through the islands.
The Galapagos Legend Cruise Ship
As with any travels, your accommodation during a trip to the Galapagos can make or break the entire experience. Luckily, the Galapagos Legend was the component that made mine.
With 53 ocean view, airconditioned cabins, and 3 interior rooms, this boat has options for everyone. Families can enjoy adjoining cabins or alternatively choose to add sofa beds in certain rooms, while couples are treated to spacious queen beds. Each cabin includes amenities of a hotel such as private bathrooms, hairdryers, tasteful decor, and comfortable bedding. 18 cabins are also equipped with a balcony for a private escape to the outdoors during navigation.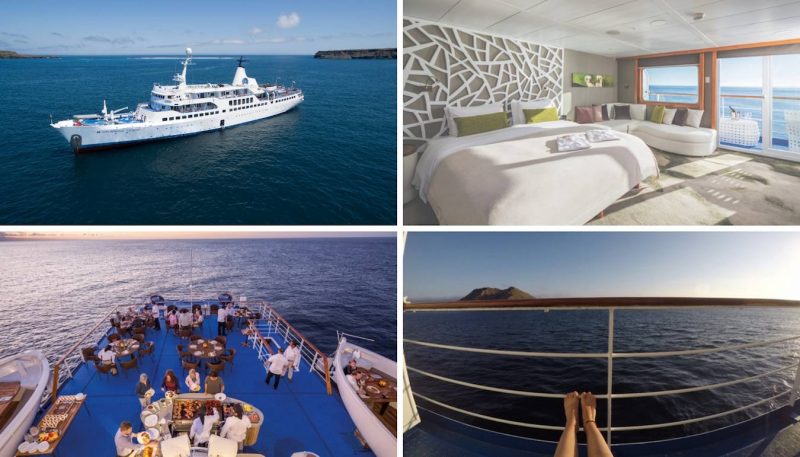 I stayed in a balcony suite plus, one of the nicest rooms aboard the cruise. There was ample space, an indulgently comfortable bed, and a spacious balcony. During my time on board I had a chance to visit all of the other room categories as well, and though the standard (smallest options) are much less luxurious than my cabin, they had equally comfortable beds and are a great options for travelers on a budget to experience the islands. Thanks to the many decks and social areas, one can spend the majority of their time outside of the cabin and simply return to sleep.
The boat has 4 decks, each with its own highlights. There is a restaurant, al fresco dining area, outdoor jacuzzi and outdoor pool, a kids area, medical station, conference room, 2 bars, stargazing area, and a gym. All of these different areas and resources are one of the greatest benefits of traveling on a larger sized boat – along with the lessened chance of seasickness – as some of the smaller ships only have rooms for cabins and a small social area.
Perhaps the best part of the whole boat though, was the crew. The naturalist guides were incredibly passionate about their home – the Galapagos Islands – and their knowledge seamlessly transferred to passengers during tours and conversations. The drivers of the pangas were always on the lookout, pointing out marine life during rides to our deep water snorkeling destinations or island visits. And the bartenders, cruise directors, waiters, and the rest of the Galapagos Legend team, did everything in their power to make the Galapagos experience as personalized and enjoyable for each passenger as possible.

Highlights of my Galapagos Experience
My Galapagos Legend trip covered itinerary 'D' which shows you the best of the southern islands in 5 days. A brief overview of the standard itinerary is below – but the team adds so many amazing little experiences and events within the days, that sometimes highlights aren't even mentioned on the day by day. For example, we had an ice cream party during sunset navigation, a trivia night, and an interactive skit that turned into an onboard party. It is safe to say I was never bored.
Day 1: Thursday – San Cristobal Island

AM arrival to San Cristobal Airport
PM visit to the San Cristobal Island Interpretation Center & Tijeretas Hill to learn about the history of the Galapagos and see some of the unique landscapes.

Day 2: Friday – Española Island

AM visit to Gardner Bay with gorgeous turquoise waters, fine white sand beach, and a colony of curious sea lions. A chance for deep water or offshore snorkeling mid-day.
PM visit to Suarez Point for a hike through diverse landscapes and visits to the nests of Albatross, hundreds of marine iguanas, and lots of baby sea lions.

Day 3: Saturday – Floreana Island

AM visit to Post Office Bay for a human history lesson and offshore snorkeling.
PM snorkeling at Devil's Crown for some of the clearest and most diverse marine life in the Galapagos followed by a trip to Punta Cormorant to hike and spot flamingos.

Day 4: Sunday – Santa Cruz Island

AM trip to Charles Darwin Research Station to learn about the conservation projects on the island and excursion to El Chato in the highlands to see giant tortoises in their natural habitat.
PM visit to Eden Islet for the final snorkeling opportunity of the trip.

Day 5: Monday – Santa Cruz Island

AM boat ride around Carrion Point to search for marine life and transfer to Baltra Airport for departure.
Along with my itinerary, the boat also covers three other 4 day / 3 night and 5 day / 4 night itineraries that can be mixed and matched with this one to give you more time to explore the Galapagos. I chose itinerary 'D' because it included the most amount of time in the water – offering at least 4 different snorkeling excursions during the trip. I would recommend that you choose an itinerary based on what types of wildlife you are interested in, and how you prefer to spend your time (i.e. hiking, swimming, relaxing, etc).
Though every moment was incredible, the two best parts of my trip were Punta Suaraz and Devil's Crown. On Punta Suaraz on Española Island I was overwhelmed by the innumerable animals, sharp volcanic landscape, and shimmering waters around me. It was the place I felt screamed "this is the Galapagos" and "this is why everyone should visit." The other trip defining experience was the visit to deep water snorkel at Devil's Crown, where I saw my first shark. What a thrill.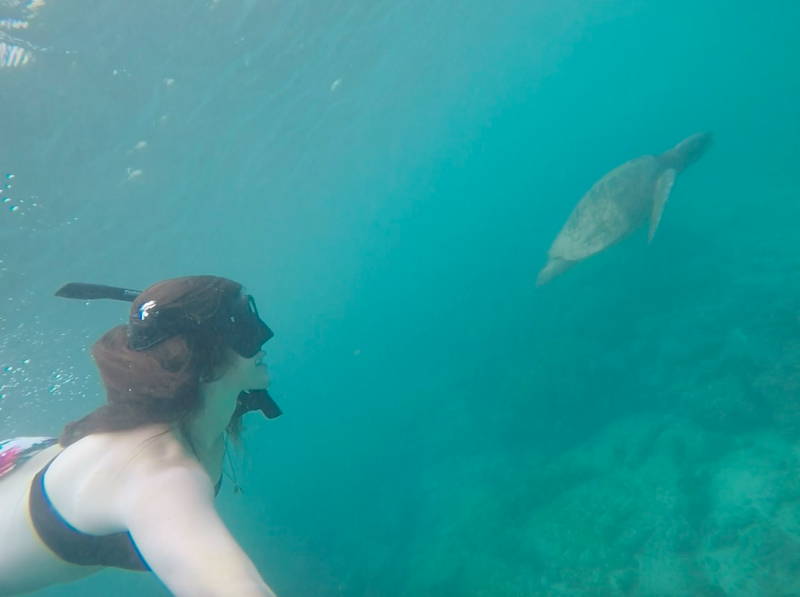 All in all I wouldn't change a thing about my Galapagos experience, except that I would have stayed even longer! This is a once in a lifetime trip, and shouldn't be missed by any.
My Top 5 Tips for a Stellar Galapagos Experience
Pick the experience that is right for you. Check out our recommendations for how to pick between a Galapagos Cruise or Land Tour, and talk to our expert travel advice so you can plan a trip best suited to your interests and travel style.
Visit responsibly. These islands contain many endangered or severely threatened species. So make sure your trip is as low impact as possible. When you travel on the Galapagos Legend with Good Life Expeditions, you can know that we are taking that into consideration for you. There is a 0 tolerance policy for single-use plastic, money from your trip is directly invested in the communities you visit, and we will guide you on how to travel as responsibly as possible.
Keep in mind this is an active vacation, especially when you visit on a cruise or pre-set land package. This means early wake-up calls and action-packed itineraries. While I think this is definitely the best way to visit the islands so that you see as much as possible, it is important to maintain the expectation that there isn't much time for relaxing.
Plan ahead. This is a popular destination with many passenger regulations to maintain the natural habitat of animals. Plan ahead to reduce the risk of inflated prices or sold out itineraries.
Spend Some Days Relaxing. If you plan to participate in an action-packed itinerary like mine, I recommend you add two days to the end of your trip to simply relax at an on-island hotel and rest on the beach. This would be the perfect way to wrap up a stay on the islands.
Plan a Galapagos Experience with Good Life Expeditions
Are you ready to start planning your Galapagos experience aboard the Legend? Contact our expert travel team to get started, or check out our Enchanted Peru, Ecuador, and the Galapagos itinerary for ideas on how to add some extra destination to your trip.