Written by Claudia Cavero, Good Life Expeditions Senior Travel Advisor. 
The 5 day Ausangate lodge to lodge trek circumnavigates hanging glaciers and turquoise lakes among the isolated Quechua communities that herd alpacas and llamas in the highlands. For many trekkers, a multi-day hike can seem a daunting experience. But that's the beauty of the Ausangate Lodge to Lodge Trek — it's perfect for travelers who want long adventurous hikes but also all the comforts of a hotel at night. While there are several multi-day treks in the Cusco area, my top pick is the Ausangate Lodge to Lodge Trek which I recently had the opportunity to complete with Andean Lodges.
Keep reading for details in my lodge to lodge trek review, and how to plan your own trekking experience with Good Life Expeditions!
Whether you're visiting Cusco for a Service Learning Trip with MEDLIFE or on vacation, Good Life Expeditions can arrange an unforgettable lodge to lodge trek as an add-on. Contact us today to start planning your trek.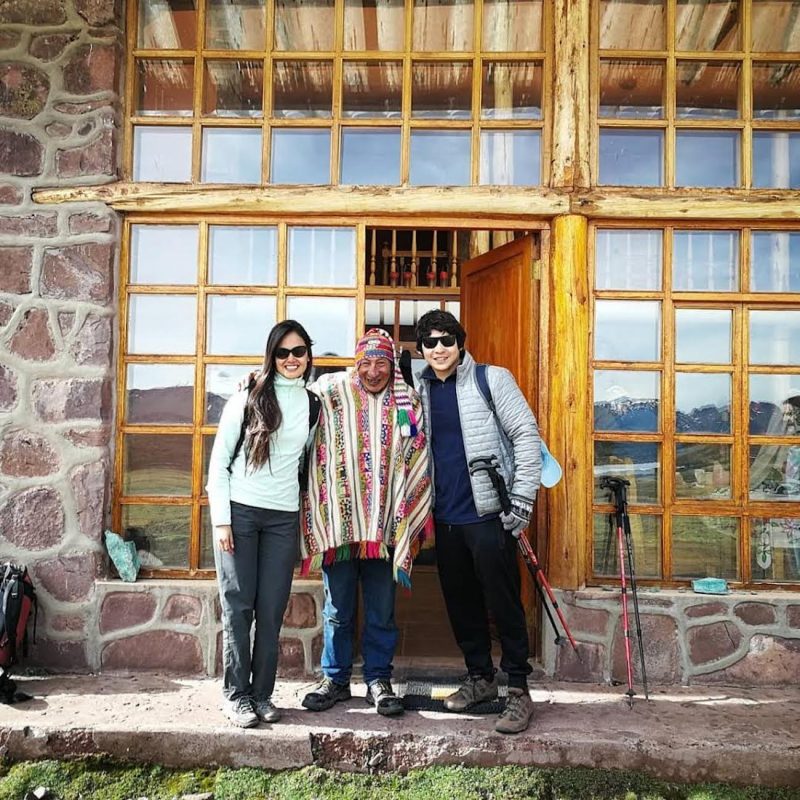 Ausangate Lodge to Lodge Trek: Journey into the Wilderness
After being collected from our hotel in Cusco by our friendly guides, we hopped on a bus for a journey along the Vilcanota River to Japura, the small village where we started our adventure. Our group of 9 trekkers set off on the first – and thankfully short – leg of our journey to Chillca. It was a quick introduction to altitude before the real work began the next day. In addition to our guides, we were accompanied by llamas carrying our main packs. Our expert guides kept us on pace and made sure no one got too worn out!
While our first day was a quick 2-hour journey, the following days were a full 8 hours covering 7 to 10 miles (11 to 17 km) a day.  This trek is 26.09 miles (42 kilometers) long and reaches its highest altitude at 16,896 feet (5,200 meters). While the altitude certainly makes it a challenging trek, spending some time acclimatizing in Cusco first definitely helps. That being said, this is not a good route for first time trekkers.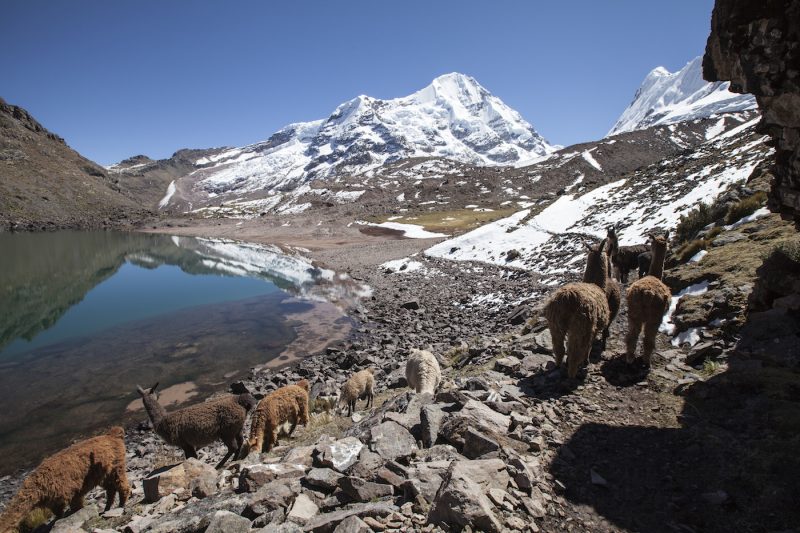 Accommodations in the Andes
The Ausangate Trek is completely responsible, operated by Good Life Expedition's trusted responsible travel partner, Andean Lodges of Peru. The company was founded in partnership with the rural communities of Chillca and Osefina to promote development through community-based tourism and unique trekking experiences. Andean Lodges prides itself on its remote eco-friendly lodges.
My personal favorite was Machurracay Lodge, touted as the highest lodge in the world. It was the closest to Apu Ausangate and is situated along the climbing route. Not only does it offer a spectacular view of the peak, but is also surrounded by rock formations. While each lodge has beautiful views, these ones were especially incredible.
We also stayed Chillca Lodge, located on the Pampa Uyuni plain in a valley irrigated by the pure glacial water, and Huampococha Lodge, which had a panoramic view of Lake Huampococha and the Nevado del Inca peak. Lastly, Anantapata Lodge is perched at the top of Alcatauri Gorge and nestled between the peaks of Mts. Tacusiri and Ausangate. The lodge's construction was completely financed by the indigenous community of Chillca.
Each of the four locations offered incredible unique views of the surrounding mountainscape and cozy accommodations with warm beds and a roaring fire. With no electricity that high in the mountains, the night sky was clear and beautiful. We even got to see a shooting star! The food was traditional Andean cuisine served three times a day, with snacks in between.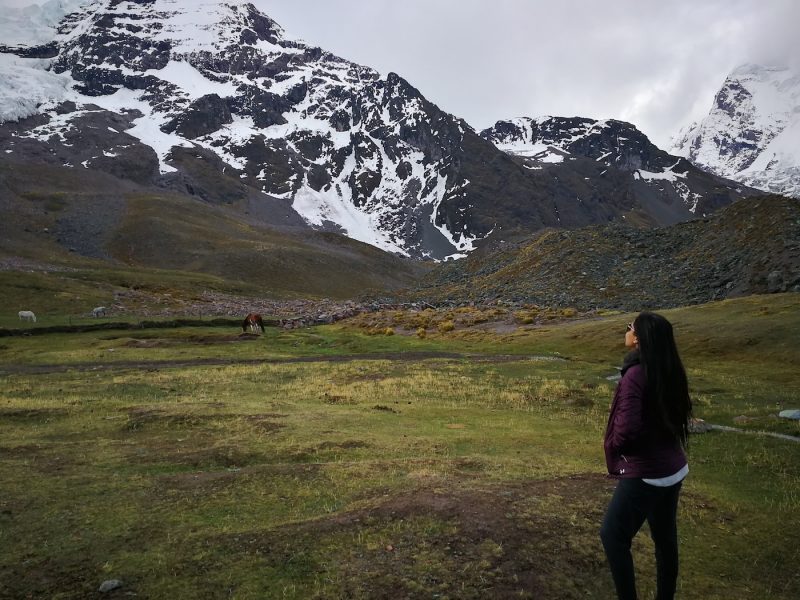 Highlights of my Hike
The most breathtaking moment was crossing the Palomani Pass. At an altitude of almost 17,000 feet (5,200 meters) above sea level, we were surrounded by stunning panoramic views of snow-covered Andes peaks. Red and green valleys flanked us on both sides and the peaks of Mariposa and Caracol in the distance. Being completely isolated from the hustle and bustle of everyday life is an incredible feeling. On this lodge to lodge trek, you can go for the full 5 days and only see one or two other hikers — which is not possible on the other popular treks! Just being there was the highlight of the journey for me.
Another site to remember is Rainbow Mountain, a natural geological wonder with sedimentary layers of red, blue, and gold rock. The mountain is considered to be holy and believed to be the deity of Cusco by local Peruvians. Good Life Expeditions recommends visiting this spectacular site on a multi-day trek, comprised of a small group of trekkers with guides we know and trust. We don't recommend this route as a single day trek from both an experiential and logistical perspective. The intense climb summiting 17,060 feet (5,200 meters) in a single day can be both grueling and difficult, and leads to an increased possibility of altitude sickness. Such an intensive hike and transportation schedule can take away from the spectacular feeling of being at Rainbow Mountain.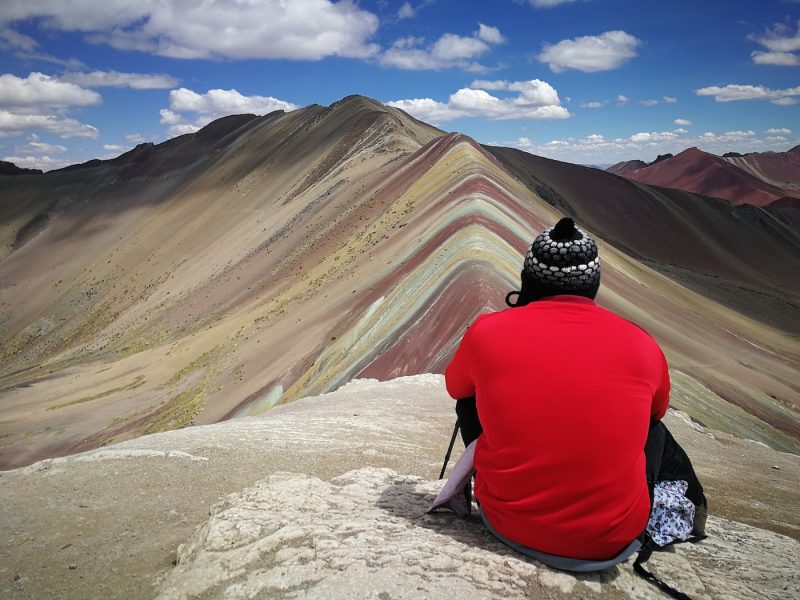 Part of the Community
More than the breathtaking landscapes, the community members made this trek an incredible experience. Almost everyone who works on the experience — from lodge owners to housekeepers — are community members of the villages we passed through. Each one had unique stories to share because most had been with the company since the beginning. This gave a more personal connection to our adventure.
Mario, who was the guardian of the fourth lodge and an incredible person to speak to, was a community leader who managed to bring a road and electricity to the area. Learning such intimate details of the communities and its people made this trek extra special.
My number one piece of advice: appreciate where you are. It's easy to get stuck focusing on your phone while trying to get good photos. But we made stops along the way, so there's lots of time for taking pictures. You'll miss the experience when you spend too much time capturing things on your phone.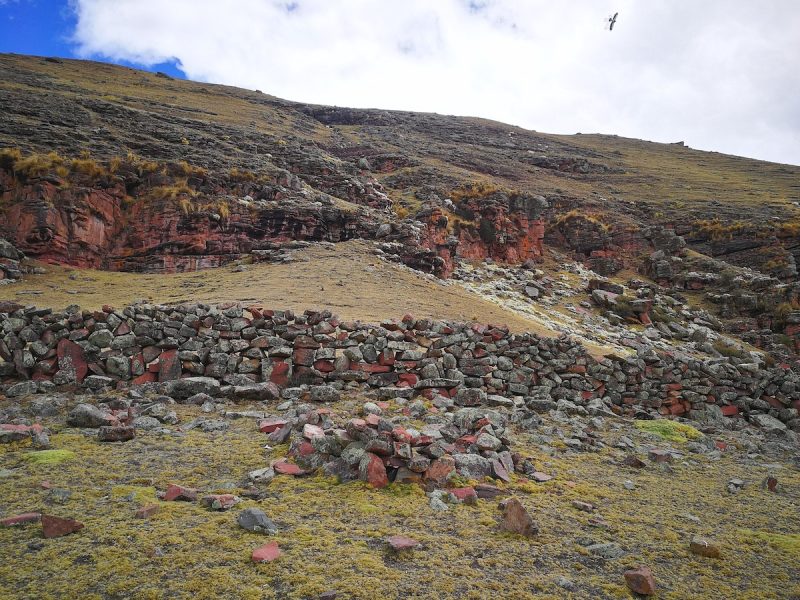 Insider Tips for your Trek
Altitude Sickness
If you're prone to altitude sickness, it's a good idea to prepare your body ahead of time. For most people, symptoms are mild and include headaches, dizziness, and shortness of breath. I arrived in Cusco a couple days before my trek started, and had time to acclimatize. This time really helped me while I was hiking.
Diamox can also be prescribed by your doctor and is generally taken two days before arriving at altitude and continued for two days at altitude. There are also medications that help assuage the symptoms once at altitude. Always consult with your doctor before starting a course of medication. For a natural remedy, consider drinking traditional coca tea and chewing coca leaves to help alleviate the symptoms.
Dress for the Weather
I was prepared for cold, but at times this excursion got really cold, especially at night. At the end of a full day of hiking, everyone would take a hot shower and then gather around the campfire to debrief for the next day. But we never really went elsewhere after dinner, just to the fire or bed. Make sure you prepare with lots of layers of warm clothing.
The other major weather issue was the rain. The weather in the Andes is really unpredictable. Even during the dry season, you could get a couple hours of rain, so make sure you bring waterproof shoes and gear! Andean Lodges also provided us with a list of suggested equipment which you can find
here
.
Physical Preparedness
Cardio is so important to prepare for this trek. Running once or twice a week for a month before your trek is a great way to physically prepare for yourself. Before heading into the wilderness, be sure to research what it's like to go on a multi-day trek. Inform yourself before you go so you can focus on enjoying yourself while you are there!
---
Hiking the Ausangate Lodge to Lodge trek is an unforgettable experience. Completely immersing myself in nature, with hardly anyone else around, is a unique and beautiful way to experience the Andes Mountains. I am excited for my next opportunity to tackle a multi-day trek!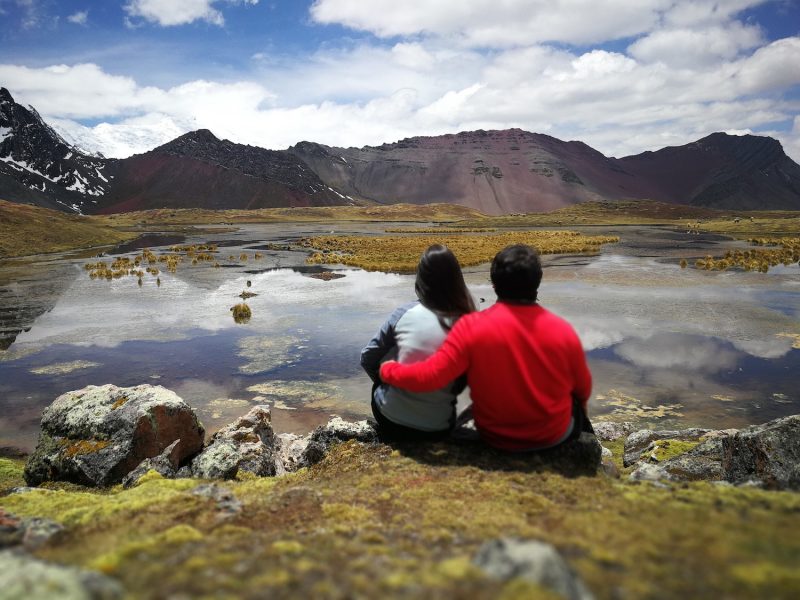 Trekking with Good Life Expeditions
When you choose to trek with Good Life Expeditions, take confidence that each route and provider has been personally tested to ensure an unforgettable and transformational experience. If this experience isn't quite what you're looking for, we have lots of other options:
Inca Trail Trek
Easily one of the most iconic trekking routes in South America, the classic Inca Trail follows the footsteps of the Inca. Spend 4 days wandering through subtropical forests and summiting high mountain passes. Along the way check out incredible ancient ruins only accessible via the Inca Trail like Wiñay Wayna archaeological site. At the end you'll arrive at Machu Picchu, through the iconic Inti Puku (sun gate) where you can start your Machu Picchu tour with an expert guide. Advanced permits are required, so booking several months in advance is recommended. Read more about the Classic Inca Trail.
Salkantay Trek
Test your stamina on this challenging yet rewarding trek. Hiking through several distinct ecosystems takes your from subtropical forests to high mountain-passes, sometimes covered in ice and snow. The 5 day / 4 night adventure is a popular alternative to the classic Inca Trail as it does not require an advanced permit. Surround yourself with beautiful greenery and wildlife, as well as breathtaking views all leading up to your final destination: Machu Picchu. Read more about the Salkantay Trek to Machu Picchu.
No matter which trek you choose, Good Life Expeditions has carefully selected trekking providers with sustainable and eco-friendly practices. Our providers work closely with the local communities, providing employment and have their own outreach programs through NGO partners, and the lodges used trek are owned and staffed by the local community as well.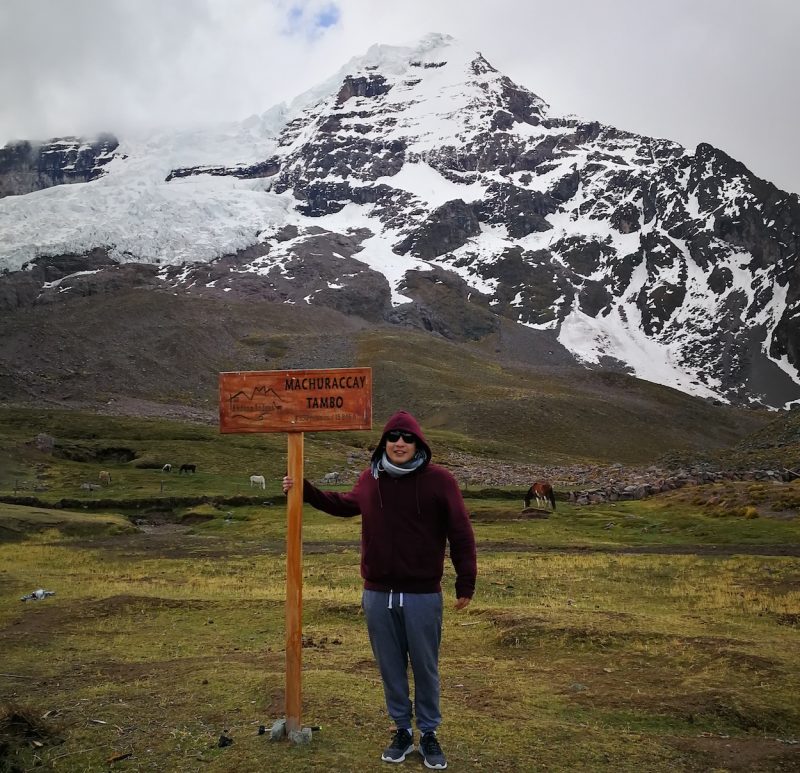 Ready to book your trek with Good Life Expeditions?
If you're ready to book a Peru lodge trek, Good Life Expeditions is here to help. Remember that it's best to book well in advance for treks – they often fill up months in advance. Our expert travel team can take care of all the logistics and arrangements – from checking availability, suggesting alternatives when not available, booking permits, entry tickets to Machu Picchu, trains and more. Contact us today.