Located in downtown Arequipa, Peru's second largest city, you can find Casa Andina Standard Arequipa. This simple and classic hotel is a great economical choice for visiting historic sites. With the brand confidence that comes with the Casa Andina name, it's a favorite 3 star Arequipa hotel during a trip with Good Life Expeditions.
Casa Andina Standard Arequipa
The Casa Andina Standard Arequipa is conveniently located close to many historic landmarks in Arequipa. It is just a few blocks away from the Plaza de Armas – one of the most beautiful in all of Peru, and a minute walk from the Santa Catalina monastery, founded in 1580. The expansive monastery is a treasure trove of beautiful architecture, historic rooms featuring colonial artwork and tranquil gardens.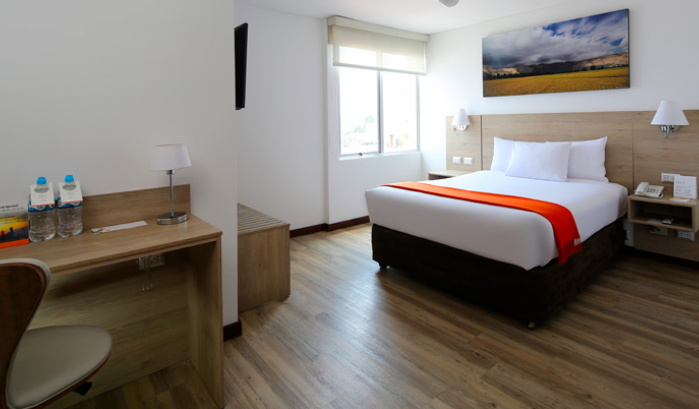 There are 105 comfortable and practical rooms with simple, modern decor. Rooms include either a full-sized bed, two or three twin sized beds. They all include flat-screen TVs, safety deposit boxes, a writing desk, and small en-suite bathrooms with tiled showers. Additionally, many rooms offer terrace views of Misti volcano, one of five volcanoes surrounding this UNESCO World Heritage City. An included buffet breakfast is served daily, along with a la carte lunch and dinner options – offering both Peruvian classics and international fare.
For some time outside the city, guests can take excursions to the nearby Colca Canyon. Famed as one of the deepest canyons in the world, and also proclaimed by a National Geographic survey as the source of the Amazon river, the canyon slices through the topography like a deep, long incision. Another great option is to explore Lake Titicaca, the highest navigable lake in the world.
Responsible Arequipa Travel
Casa Andina Standard Arequipa offers a great economical option for an Arequipa hotel. Good Life Expeditions can arrange your stay here as part of one of our incredible itineraries, like Discovering Southern Peru. Why not chat to our friendly travel team about your requirements? Make your dream trip to Peru a reality and contact us today.