Good Life Expeditions' recent partnership with Exodus Travels and PEAK DMC to bring COVID-19 relief was featured on Adventure Travel News on May 6, 2020. We're grateful and proud to be recognized for our collaboration with others in the travel industry as we continue giving back to local communities. View the original post here. Keep reading for some key extracts.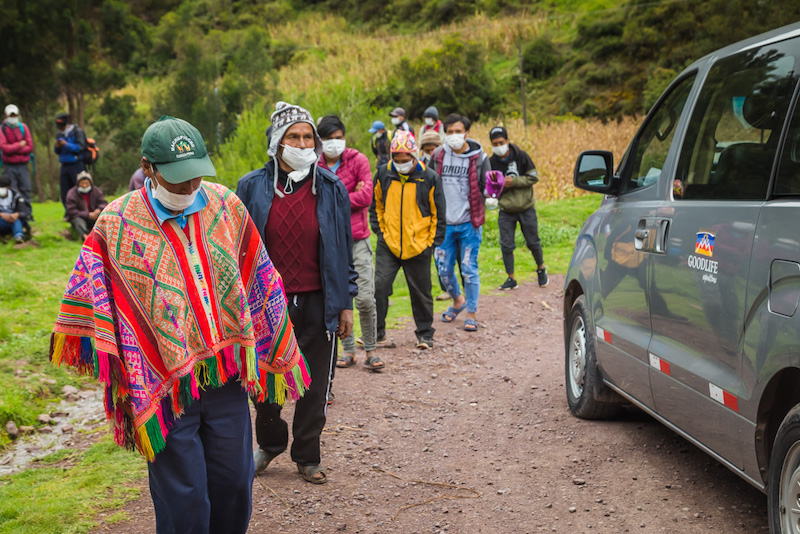 As the lockdown continues throughout Peru, pressure mounts for remote families and low-income communities around the country. Tourism remains halted for the foreseeable future. This important income for communities has been wiped out.
A few travel organizations in Peru have stepped up to offer a helping hand. On Thursday and Friday, Exodus Travels, with their Ground Partner PEAK DMC, made additional purchases to provide relief to over 100 families in the Sacred Valley. The majority of which are their Porter Suppliers for their Inca Trail Trekking Program.
Matt Kinch, Director of Operations at Good Life Expeditions, added, "Community Tourism is critical to the experiences Good Life Expeditions offers their clients and is a big part of our success. While these families are in lockdown, simple things like access to healthy food become more difficult. Venturing to the nearest towns and markets where sanitary measures are inadequate heightens risk exposure. While these actions do not solve the problem, they do provide some immediate relief. We will continue to work together with our partner organization MEDLIFE to provide support."
Travel Companies and Tour Operators looking to support local communities can contact us to support communities in need. A simple donation of $30 USD will feed a family for one week. They can also support MEDLIFE's Moving Mountains campaign, a recurring monthly donation that will tackle food insecurity and COVID-19 relief in Peru and Ecuador's most vulnerable communities. To learn more about our COVID-19 relief efforts, check out this post.