Written by Jamie Hankins, a MEDLIFE 2018 Junior Field Associate 
Listening to the sizzling vegetables and smelling the fresh aromas of a Peruvian kitchen all while tossing fresh spices in a pan — experience them all during an interactive cooking class in Cusco. This experience includes a night of fun, food, and laughter as you learn about the culture of food in Peru, and prepare some for yourself. Keep reading for details in my Cusco Cooking Class review, and how to plan your own cooking experience with Good Life Expeditions!
Whether you're visiting Cusco for a Service Learning Trip with MEDLIFE or on vacation, Good Life Expeditions can arrange an unforgettable cooking experience as an add-on. Contact us today to start planning your trip.
Sampling some Pisco
Perú Bar is located in a beautiful part of the city, just a few blocks away from the Plaza de Armas and city center. Walking the streets of the old city on your way to Perú Bar is an experience in itself, and one I've yet to grow tired of regardless of how much time I spend in Cusco. From the cracks in the cobblestone calles and colonial style buildings to the narrow alleyways where indigenous vendors mingle with international tourists, the city simply radiates history.
You can find it at the base of the trendy San Blas neighborhood. We entered the restaurant through a quaint internal courtyard, which is common to many of the old buildings in historic Cusco. We climbed the stairs to find restaurant owner David Delgado and his staff awaiting our arrival. To our delight, David told us we'd begin our culinary experience not in the kitchen as we'd thought, but at the bar.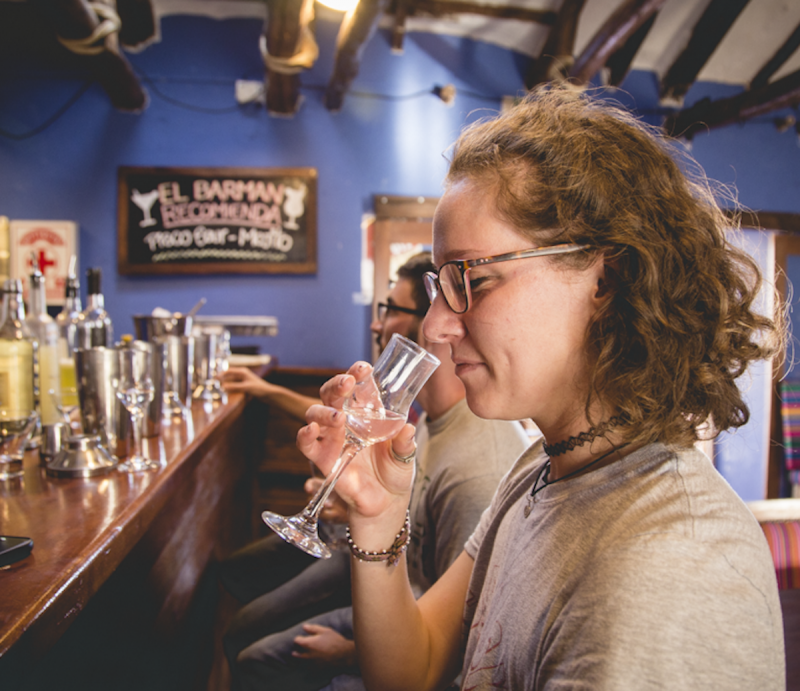 Each stool had been set up with the necessary tools to make the Pisco Sours that would help us get ready for the cooking to come – pisco glasses, cocktail shakers, jiggers and the rest. David began the instruction by telling us about the history of the Pisco Sour as Peru's staple cocktail, as well as the different components of the drink and possible variations. We also sampled several types of Pisco Sours as David explained differences in how they are produced and the many flavors that can be infused within.
After some pisco taste-testing, we all chose our own variation to make from the many options lining the wall. Flavors such as coca, maracuya, chichi morado, ginger, lemon, cinnamon, and more were at our disposal.  I decided I'd be making a Maracuya Sour, one of my personal favorites. David led us through each step of the process, from the correct ratio of ingredients to the last delicate drops of bitters on the foamy surface, until we lined up a colorful array of piscos to pass around and share with another.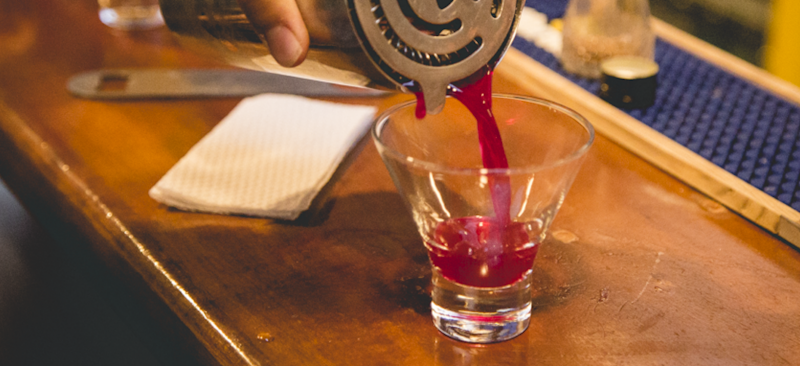 Trying on our Chef Hats
With all of the pisco sampling we'd done, I was more than ready to take my drink downstairs to the kitchen to begin the culinary portion of the class.  David passed the reigns to one of his chefs to lead us in preparing ceviche, easily the food I most associate with Peruvian culture.
Similar to our pisco lessons, we learned about the dish's history and the chemical reaction that occurs between the fish and the acidic marinade. We were then given our ingredients to begin the cooking process, which included tilapia rather than ocean fish because of our distance from the sea. The Perú Bar staff stayed by our side as we chopped and added all our fresh ingredients. We also had options to customize our particular plate based upon our individual spiciness preferences. With plates prepared and fish marinated to citrusy perfection, it was time to eat our first dish. As has been the case with every ceviche dish I've ever tasted, it was completely delicious and didn't last very long.
Fortunately, David was already bringing in the ingredients for the next recipe we'd be preparing, the classic lomo saltado. I was most excited for this portion because we'd be cooking at the stove for the first time that evening. However, I wasn't aware that making lomo saltado involves going full hibachi style chef. Once we'd cut and prepared the ingredients we began tossing them over our stoves. David was soon adding oil to our woks and causing an eruption of flame momentarily reaching as high as our heads to sear the meat.
Lomo Saltado is a quick dish to prepare. It's an example of a recipe that's greater than the sum of its parts.  The ingredient list is rather simple, primarily just beef, vegetables, oil, and soy sauce. But, as they combined in the wok the flavors complement each other to create what is one of my absolute favorite Peruvian dishes. With the cooking complete, we plated the final meal. David and his staff helped us put it in an artistically simple presentation. I was excited to take it to my table and immediately jumbled it together anyway.
Fruits of our Labor
As we began eating back in the restaurant, we were happy to have David join us. David's passion not just for the food but for creating an environment at his restaurant that is as easy-going as he is was obvious, and it made the whole experience that much better.  Overall, the Cusco Cooking Class was a ton of fun for all of us. The food and drinks were delicious and came with the context to help us appreciate them even more.  The staff was attentive yet easy going, and the instruction was more than clear. Now I'm just excited to take what they taught me and give it a try myself back home!

Travel with Good Life Expeditions
If you're ready to book a Cusco Cooking Class experience, Good Life Expeditions is here to help. This class can be added to any of our Cusco itineraries. Our expert travel team can take care of all the logistics and arrangements – from checking availability, suggesting alternatives when not available, and more. Contact us today.