For many travelers, Machu Picchu is more than just another stop on their itinerary: it's their reason for coming to South America in the first place. With its fascinating history and spectacular surroundings, it's no wonder that this remarkable archeological site has inspired so many to pack their bags and board a plane. 
From 2019 onwards, visiting Machu Picchu has become slightly more complicated with the introduction of new regulations to responsibly manage its 7 million yearly visitors. However, the expert travel team at Good Life Expeditions is here to help you, from planning your train journey to choosing the right Machu Picchu hike for you. 
In short, which Machu Picchu Hike should you choose? 
If you're in it for the ADVENTURE, do Huayna Picchu
If you're in it for the VIEWS, do Machu Picchu Mountain
If you're on a tight BUDGET or don't like to plan, do the Sun Gate
If you're strapped for TIME, do the Inca Bridge
Keep reading to learn more about each hike!
Hiking at Machu Picchu
Of course, you can have an amazing time exploring Machu Picchu without doing any hikes. But we think that they add a little extra magic to the experience, and help you get more out of your visit. After all, if you've traveled all the way to Peru to see Machu Picchu, it's worth taking a few extra hours to explore it fully!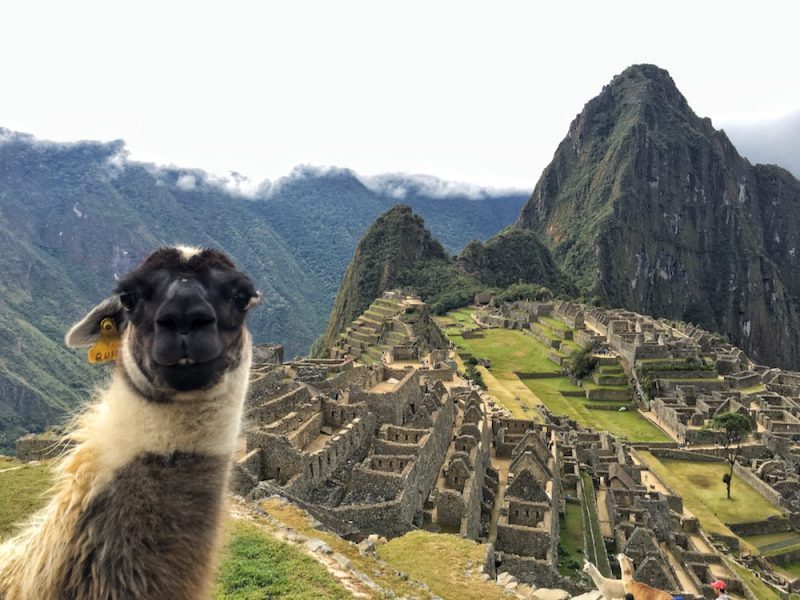 1. Huayna Picchu Hike
Duration: 2.5-3.5 hours
Difficulty level: Challenging
Tickets: Special ticket required (200 available per day for each time slot)
Entry time slots: 7am-8am or 10am-11am
Huayna Picchu (also spelled Wayna Picchu) is the dramatic peak behind the citadel of Machu Picchu, featured in countless postcard photos of the UNESCO heritage site. Also known as 'Young Mountain,' its fame and ubiquity have made it the most highly sought after hike at Machu Picchu.
For this hike, you will scale narrow staircases along steep precipices, so make sure you hold onto the handrails and ropes. Although Huayna Picchu is the most technically challenging & treacherous Machu Picchu hike, you will be rewarded with incredible views at the summit. 
The Huayna Picchu hike takes 2.5-3.5 hours depending on your level of fitness and whether you visit archeological sites on the way (like the Moon Temple). Keep in mind that this is a strenuous hike and it is not recommended if you are afraid of heights. A special ticket is required and should be booked months in advance.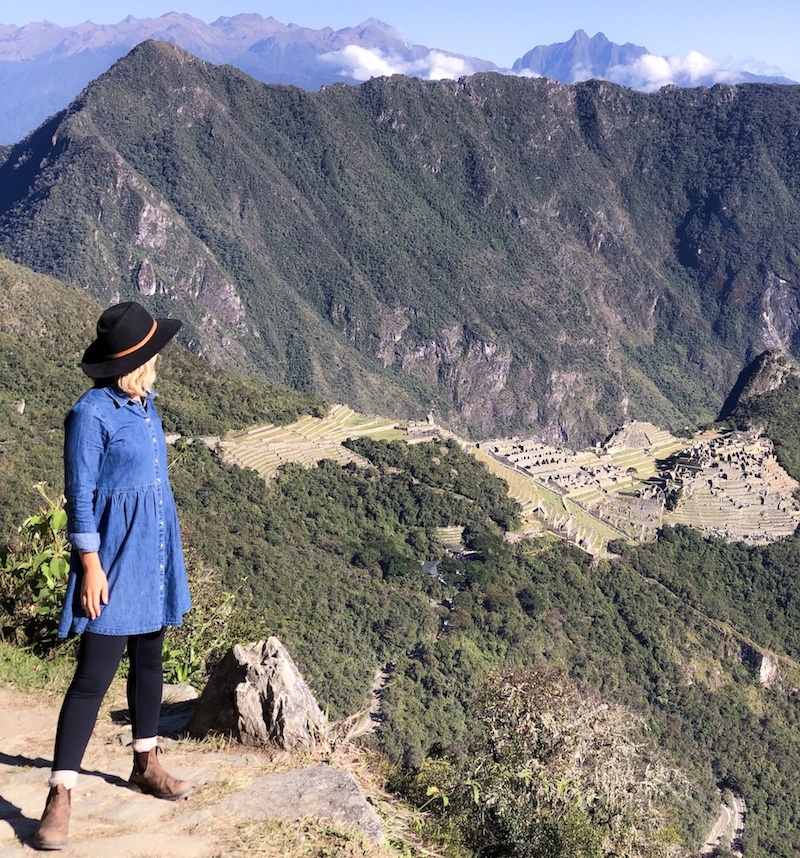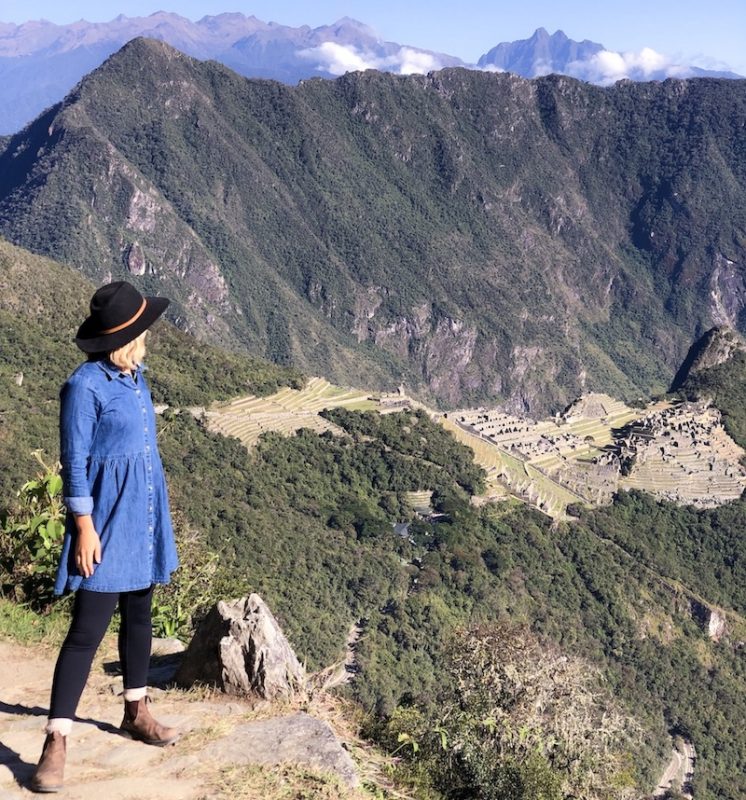 2. Machu Picchu Mountain
Duration: 3-4 hours
Difficulty level: Moderate to challenging
Tickets: Special ticket required (400 available per day for each time slot)
Entry time slots: 7am-8am or 9am-10am
If you're not a fan of heights, Machu Picchu Mountain or 'Old Mountain' is a good alternative to Huayna Picchu. It is still a rigorous hike with many large granite stairs, and it is slightly longer than the Huayna Picchu hike. However, its wider paths are less steep and the views are equally spectacular. From the summit, you can look down on Huayna Picchu and see snow-capped mountains in the distance. The panoramic views of the archeological site and beyond are well worth the climb.
This Machu Picchu hike takes 3-4 hours in total and requires a special ticket. Although not as in-demand as Huayna Picchu, tickets must be booked well in advance. 
3. Sun Gate (Inti Punku) 
Duration: 2.5 hours
Difficulty level: Moderate
Tickets: Included in general admission ticket 
The Sun Gate is the original gateway to Machu Picchu. It's also how the Incas entered the citadel when they were on the Inca Trail. Once controlled by the imperial guards of the Inca Empire, this site offers the first glimpses of the ruins from the original trial. You can say hello to multi-day trekkers completing the final leg of their journey as you enjoy this moderate, 2.5 hour round trip Machu Picchu hike. 
This hike is a great option if you are booking last minute, on a tight budget, or looking for an easier option than Huayna Picchu or Machu Picchu Mountain.
4. Inca Bridge
Duration: 30-40 minutes
Difficulty level: Easy
Tickets: Included in general admission ticket  
The Inca Bridge consists of a few logs that form a narrow pathway over a gap in the cliffside trail. It is believed to have been a secret entrance to Machu Picchu that could have easily be defended from unwelcome visitors by removing the logs. Consider it the Inca's version of a moat and drawbridge! The flat trail to the bridge snakes along the mountainside, with some narrow sections that would not be recommended for anyone with vertigo or a fear of heights. 
This hike is a good option if you are looking for an easy hike or if you are short on time. If time isn't a problem, you can do both the Inca Bridge hike and the Sun Gate hike for two different perspectives of Machu Picchu.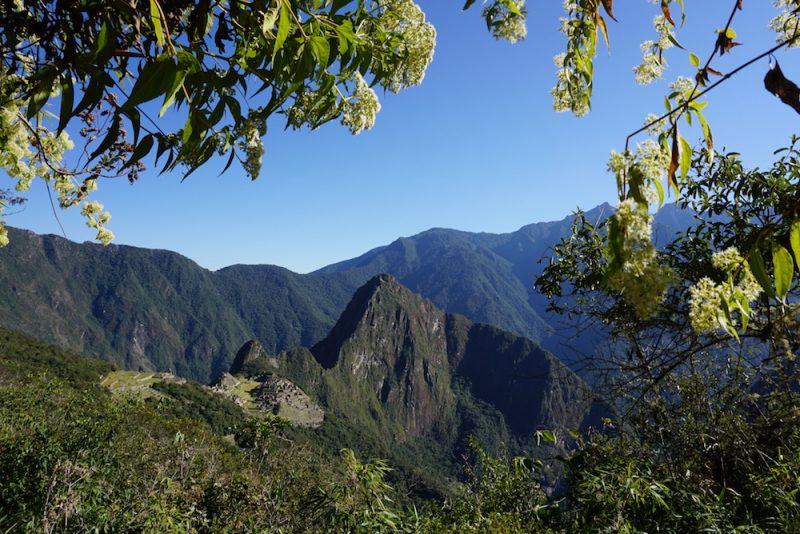 Planning your Machu Picchu Hike
Tickets
There is a limited number of tickets available each day for Huayna Picchu and Machu Picchu Mountain. Demand is particularly high during July and August, and tickets have been known to sell out up to 4 months in advance. Hiking to the Sun Gate or Inca Bridge only requires a general admission ticket to Machu Picchu. General admission tickets should also be booked in advance, especially for the coveted sunrise time slots. 
As of 2019, new regulations mean that visitors to the site can only go one-way as they explore the site. This means that for both the Sun Gate and Inca Bridge hikes, you should complete your hikes when you first arrive, before exploring historical complex (unless you've purchased more than one entrance ticket). 
Seasons
Keep in mind that the weather throughout the year may affect your hike. During the rainy season, there will be fewer tourists but you will have to take extra care on the paths as they may be slippery. The views from the trails will be more likely to be obstructed by clouds. 
Health and safety
We wouldn't recommend hiking at Machu Picchu if you have issues with your knees, hips, back, or if you're scared of heights. We also suggest that you spend a few days acclimatizing in Cusco or the Sacred Valley before completing a Machu Picchu hike to avoid altitude sickness. For the longer hikes, remember to bring at least 1.5 liters of water. Keep in mind that there are no toilets on any of the trails or within the archeological complex. 
Contact [email protected] today to organize your Machu Picchu Hike!