If you catch yourself daydreaming of a relaxing vacation in the jungle, it's time to take an Amazon riverboat cruise. The Delfin III offers a peaceful oasis to enjoy breathtaking views while floating through the rainforest.
Delfin III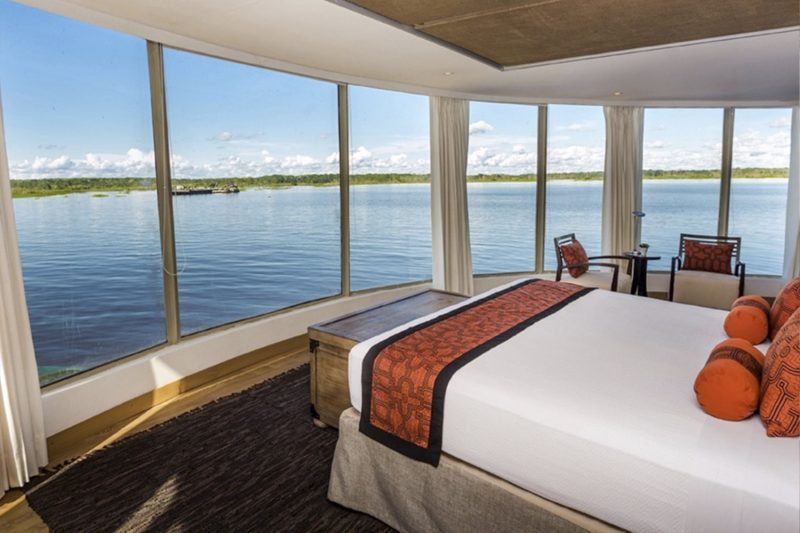 A classic vessel like it's sister boats Delfin I and Delfin II, the Delfin III is the largest in the fleet. Offering 22 high-comfort suites, the Delfin III can accommodate up to 43 passengers. The first deck houses eight spacious suites featuring floor-to-ceiling panoramic windows, two of which are corner suites at the front of the boat. While on the second deck, you can find 10 upper suites and the Owner's Suite. This is the largest suite and includes one complimentary 30-minute spa treatment per guest, stocked minibar, scented bath upon request, and complimentary laundry services. Handmade, vibrant artisanal decorations made by local women enhance every suite and dining room on board.
From the top-deck indoor and outdoor lounge areas, passengers can enjoy gorgeous forest views. Better yet, check them out while lounging in the plunge pool or grabbing a drink at the full-service bar. In the serene Rainforest Spa, you can relax with some exotic treatments straight from the Amazon. Try a Yucamani stone massage, soothing avocado wraps, and invigorating coffee-cacao scrubs to calm your mind and reinvigorate your body.
Activities & Excursions
Whether you like trekking through the jungle or you prefer peacefully rowing, there are optional activities for everyone on board the Delfin III. Take advantage of the custom designed kayaks. Navigate the calm waters of the Pacaya Samiria National Reserve — and don't forget a fishing pole! Join an excursion to the Rescue & Rehabilitation Center of River Mammals where you will learn about the endangered manatees. Spend some time feeding the animals and learning about why they are endangered. You might even get to pet a baby manatee. Another option, enjoy nature as you've never seen it before on an early morning trail walk through the jungle. A naturalist guide will accompany you to point out the amazing creatures and vegetation of the Amazon.
Carefully crafted three and four-day itineraries are available to suit your travel plans. Starting in Iquitos, the largest city in the world inaccessible by road, float down the Marañon and Ucayali Rivers in the Pacaya Samiria National Reserve. Due to natural and weather conditions, all excursions and itineraries are subject to change.
Explore the Amazon with Good Life Expeditions
If you'd like to explore the Peruvian Amazon aboard the Delfin III, our expert travel team can help. Good Life Expeditions is a travel agency passionate about creating transformational experiences, but also giving back to the communities we visit. We'll take care of all the arrangements, from transfers to cruise reservations, and more. To start planning, contact us today.