Imagine yourself lounging on the deck of a luxury riverboat floating through the jungle. This dream could be a reality aboard the Delfin I, an exclusive Amazon river cruise.
Delfin I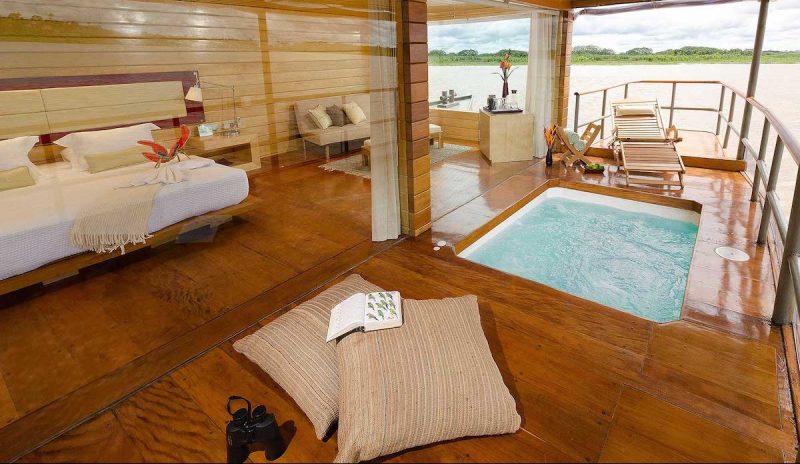 More lavish than it's sister boats Delfin II and Delfin III, the Delfin I is a classic river vessel offering a spacious, yet intimate environment to enjoy your journey. It's four exclusive oversized suites include private panoramic terraces, two of which feature private whirlpools. Delfin I is the first and only river vessel with this unique feature. Designed with elegant, contemporary decor, each suite has floor-to-ceiling windows enveloping your room in natural beauty. Delfin I prides itself on providing a luxury experience, and dining is no exception. Passengers can enjoy an unforgettable gastronomic experience served by an excellent staff. Every meal is prepared using fresh ingredients from the Amazon region and includes wine pairings with South American vintages.
The top deck offers passengers a peaceful oasis to enjoy breathtaking landscapes by day and the starry sky by night. Equipped with an entertainment center, XBox, and a selection of DVDs and reading materials, there is no shortage of activities on deck. An open bar, coffee, and tea are always available as well. Feel as though you are immersed in the jungle in the exercise room, which has panoramic windows to keep you in touch with the vibrant scenery during your workout. For a more zen experience, schedule an appointment with an onboard wellness expert for massages and scrubs inspired by the traditional wisdom of the rainforest.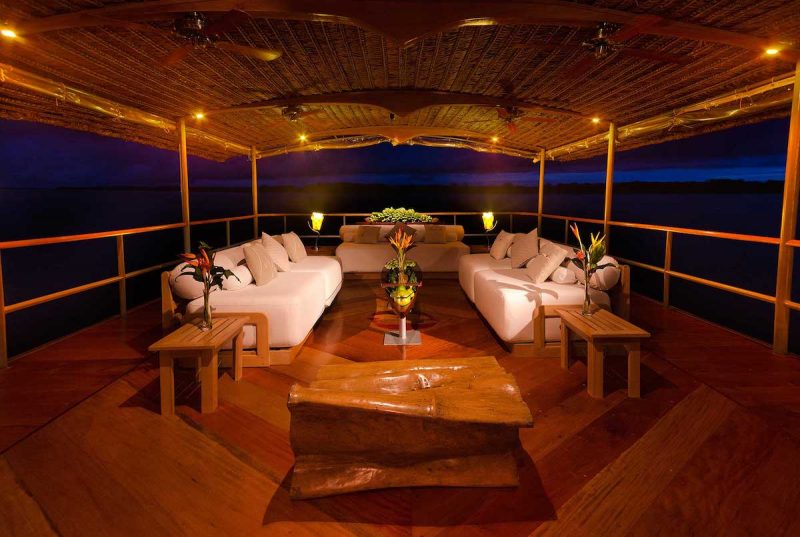 Activities and Excursions
While not relaxing onboard, the Delfin I offers a myriad of exciting excursions. Passengers are invited to entice their adventurous side with one or more of the optional activities: kayaking along crystal clear creeks, swimming with pink river dolphins, fishing for piranhas, trekking through the wilderness, visiting native communities, and more.
Choose between three or four-night itineraries to accommodate your travel needs. Starting your excursion in Iquitos, float down the Marañon and Ucayali Rivers in the Pacaya Samiria National Reserve. All excursions and itineraries are dependent on natural and weather conditions and are thus subject to change.
Explore the Amazon with Good Life Expeditions
Plan your next adventure in the Peruvian Amazon aboard the Delfin I with the added bonus of responsible travel. The expert travel team at Good Life Expeditions will take care of all the arrangements, from cruise reservations to special accommodations, and more. We are a travel agency passionate about creating transformational experiences, but also giving back to the communities we visit. To start planning, contact us today.