Giving back during COVID-19
Giving Back During COVID-19
At Good Life Expeditions, we're deeply passionate about creating transformative travel experiences that give back to the countries we plan trips. Every traveler with us supports medicine, education, and development for low-income families through our partner, non-profit, MEDLIFE. By giving back during COVID-19, we hope to continue making a difference during the pandemic and beyond.
As a socially responsible travel company, we see it as our duty to support local communities both during good and difficult times. In the midst of a global pandemic, this is our chance to support the people of the countries that welcomed us during our travels. While travel is paused, we are working to support the local communities, especially those that rely on the tourism industry's income.
We are co-sponsoring the efforts of MEDLIFE to raise money in support of vulnerable families in Peru, Ecuador, and Tanzania that have lost their income due to COVID-19. Watch the video to learn more about our COVID-19 relief efforts. DONATE NOW.
Impacts of COVID-19 in Tourist Hotspots
In tourist hotspots like Cusco, local economies depend on the travel industry. However, strict nationwide lockdowns and travel restrictions have paralyzed tourism. Borders have closed. Businesses have shut down.
Although these measures are necessary for preventing the spread of COVID-19, they have severe financial ramifications for vulnerable families. From Indigenous women working in hospitality to tour guides from rural areas, the global pandemic is hurting those who welcome us when we visit their country. Unlike residents of the Global North, families in countries like Peru may not have access to a social safety net or savings account to keep them afloat.
It is common for locals to live day-by-day on wages from informal jobs. According to Peru's National Institute of Statistics and Information, 72% of Peruvians work in the informal economy. Without an official work contract or protections brought by formal employment, many people have lost their only income source.
This means that families are unable to put food on the table. The quarantine continues for months on end. The situation is evolving into a serious hunger crisis.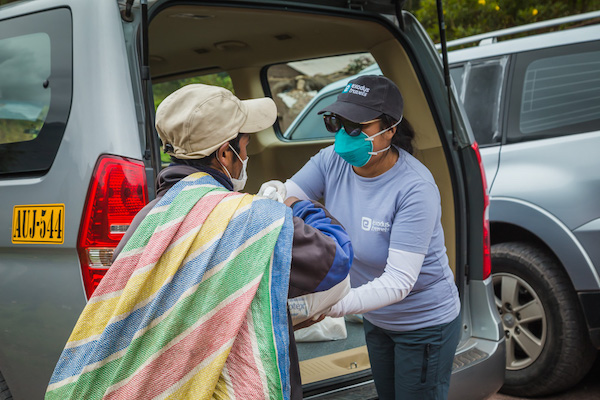 Our COVID-19 Relief Efforts 
Good Life Expeditions is 100% owned by our partner non-profit MEDLIFE.  This connection to low-income communities means we can bring COVID-19 relief to those who need it most. Throughout the years, MEDLIFE has built relationships of trust and understanding with impoverished communities affected by COVID-19. MEDLIFE's relationship with these communities provides a strong foundation for implementing an effective response to the emergency.
Currently, the most pressing need of the low-income communities that MEDLIFE works with is nutritional aid. That's why Good Life Expeditions is collaborating with MEDLIFE to deliver food packages to vulnerable families in Peru, Ecuador, and Tanzania. These packages provide families with immediate relief for their most urgent needs. Throughout the delivery process, our team complies with safety requirements and disinfection procedures to prevent spreading COVID-19.
Act now to support sustainable COVID-19 aid!
As the crisis continues, we are working with MEDLIFE to bring ongoing sustainable relief through MEDLIFE's monthly donation program. We understand that COVID-19 is creating financial challenges for everyone around the world. But if you are able, we hope that you consider becoming a monthly donor.
You can also use MEDLIFE's fundraiser on the Give Lively platform to create your own fundraising page. We encourage you to share the link and ask others to donate. Raise as much money as you can to support vulnerable families in Peru and Ecuador.
Donations will directly support the purchase and delivery of food, water, and other essentials, to families without the means to purchase their own. When deliveries are made, we will provide updates to donors. We encourage you to share these updates with your friends, family, or clients so they can see the impact we are making together.
If you're a travel company, we'd be delighted to collaborate with you to reach even more families in need. We recently worked with Exodus Travels and Peak DMC to bring food packages to families who have lost income from working as porters in Inca Trail trekking programs. Whether you're a travel company or an individual, you can join us in giving back during COVID-19. Get in touch to explore partnerships or DONATE NOW. 
Good Life Expeditions lives and breathes our motto, "travel that transforms and gives back." Right now, we can't create travel that transforms. Instead, let's work together to shift our efforts into giving back so that it is more transformative than ever when we can travel again.
WHO YOU WILL HELP
Are you ready to donate? Thank you. We want to introduce you to a few of the families that will benefit from your generosity.
ALEXANDER & YANETH FROM CUSCO, PERU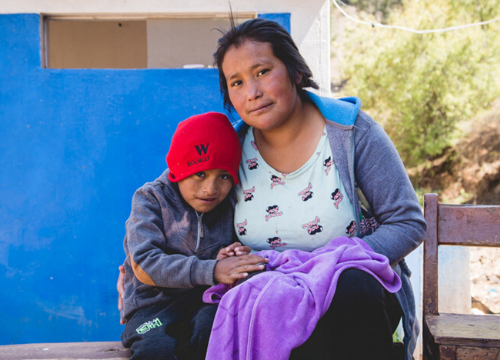 After being orphaned at a young age, Alexander's sister, Yaneth, became his primary caregiver. The MEDLIFE Cusco team has supported Alexander through two surgeries for his cleft palate and renovated their home! Unfortunately, Alexander and Yaneth have lost their income because of the lockdown.
Yaneth worked as a waitress in the touristic Sacred Valley region. Due to the mandatory quarantine and border closures, she no longer can work. This leaves them unable to purchase food during a time when keeping children and adults well-nourished and with a strong immune system has never been more vital!
Your donation will bring families like Alexander & Yaneth food, water, and necessary supplies to make it through this time. 
KIMBERLY FROM TENA, ECUADOR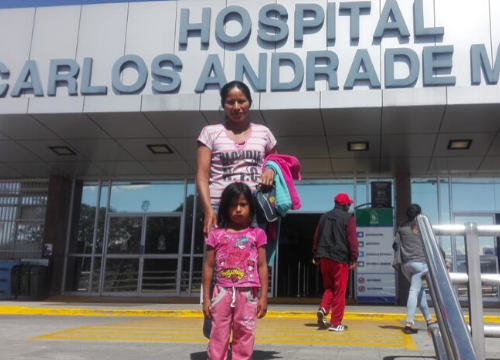 5-year-old Kimberly has been one of our follow-up patients since 2016. She has a rare case of lymphoma. MEDLIFE's team of nurses in Ecuador has helped her access treatment.
Kimberly's mother earns a living by providing laundry services. However, due to the drop in tourism caused by COVID-19, her customers can no longer afford her services. To make matters worse, the price of basic foods like vegetables and grains has increased because of transportation restrictions.
As a result, Kimberly's family is struggling to put food on the table. This is a major concern because maintaining a healthy weight is important for Kimberly to receive surgery to save her life. Your donation will bring families like Kimberly's food, water, and necessary supplies to make it through this time. 
MILAGROS FROM LIMA, PERU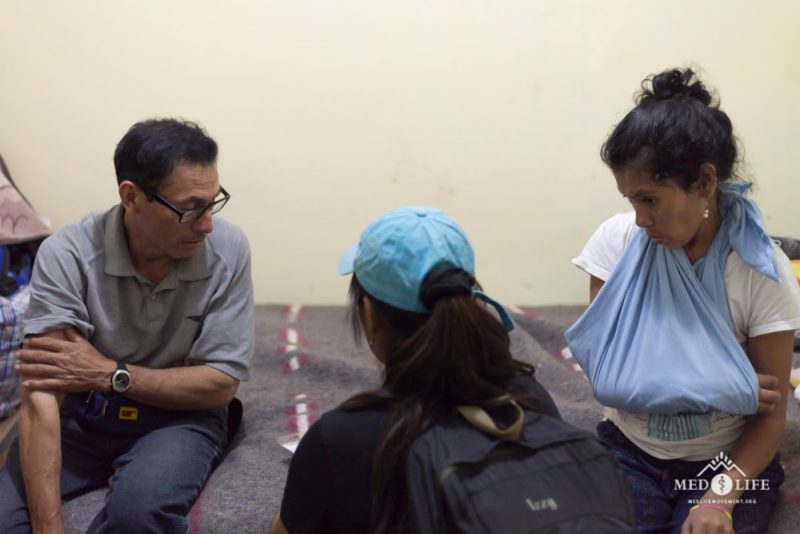 When we first met Milagros at Mobile Clinics in 2013, she needed urgent medical attention for a serious case of anemia and a chronic heart condition. Over the years, MEDLIFE's team of nurses has continued to support Milagros through several health issues, including a stroke that left half of her body paralyzed. Due to her continuing health challenges, Milagros has been unable to work for many years and relies on her brother's financial support.
You may remember Milagros, as she was one of the many MEDLIFE patients that benefitted from donations from Good Life Expeditions travelers. Your travels helped to purchase furniture for her home, creating a safe, clean living space for Milagros. Unfortunately, Milagros has been impacted by the lockdown, similar to many other families.
Her family and neighbors have lost their incomes, leaving the community in search of safety. As unemployment and water shortages continue to ravage the community, it seems unlikely that her neighbors and brother will be able to support her throughout the entire period of lockdown and its aftermath. Your donation will bring people like Milagros food, water, and necessary supplies to make it through this time. 
---