Tierra Viva Hotel Machu Picchu is a charming hotel located in Aguas Calientes, the main point of access to Machu Picchu. The convenient location makes it a great base for exploring the famous Inca Citadel. Offering great value, the hotel is a cozy and comfortable pick for your trip with Good Life Expeditions.
Tierra Viva Machu Picchu
Decorated with Andean inspired graffiti by Peruvian artist Carolina Málaga, Tierra Viva Machu Picchu Hotel is an airy, welcoming space. The hotel has 43 comfortable rooms – each featuring colorful decor and furnishings. Rooms offer King, Queen, Double, or Single beds with varying configurations based on your party size and preference. All rooms include WiFi, flat-screen TVs, safety deposit boxes, and writing desks.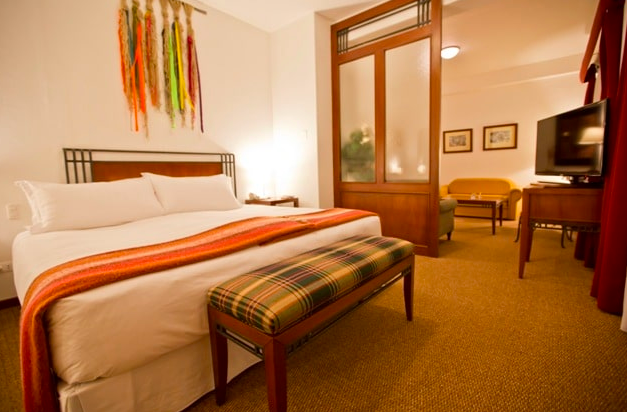 What's more, you can enjoy a lounge with a brick fireplace, floor-to-ceiling murals, and images of the surrounding mountains. Every morning sample tasty Andean cuisine at the hotel breakfast buffet, and after a day exploring Machu Picchu enjoy a cocktail at the bar. Or if you prefer to eat out and explore the surrounding town, the hotel is located just two blocks from the main square. Guests are within walking distance of restaurants, shops, markets, and the pick-up point for buses heading to Machu Picchu.
Notably, oxygen is also available if you are suffering from the altitude. The hotel's friendly and attentive staff is available 24/7 to assist you with this or anything else you may require.
Socially Responsible Travel with Good Life Expeditions
Perfectly placed in Aguas Calientes, the Tierra Viva Hotel Machu Picchu is ideal for visitors heading to Machu Picchu. If you'd like to stay there as part of a Machu Picchu Getaway or Authentic & Transformative Peru expedition, let us handle the details. From coordinating transportation to booking excursions, our expert travel team can help. Contact us today to start planning your transformative trip!