Entering through the stately republican façade, the grandeur of Casa Republica is instantly evident. The hallway which also serves as the reception with a simple wooden desk is light and airy with a high open mezzanine, original tiled floor and plush leather sofas. The impeccably restored interiors continue throughout the property, with original architectural features present in all the guest rooms.
Refurbished Mansion Casa Republica
Originally built in the 1920s, this was a mansion beach house, fitting in with the arty bohemian vibe of Barranco, Lima's beach escape for the elite class. Now a beautiful boutique hotel, it's one of the carefully hand-selected Lima hotels recommended by Good Life Expeditions, and the perfect base for a stay in Lima.
Surrounded by charming and bohemian Barranco, there are restaurants, bars, cafes, art galleries and boutiques all within walking distance. It's a delightful neighborhood to browse and wander through. Barranco is adjacent to Miraflores, the upscale tourist district featuring more restaurants, shopping and many of the city's visitor attractions.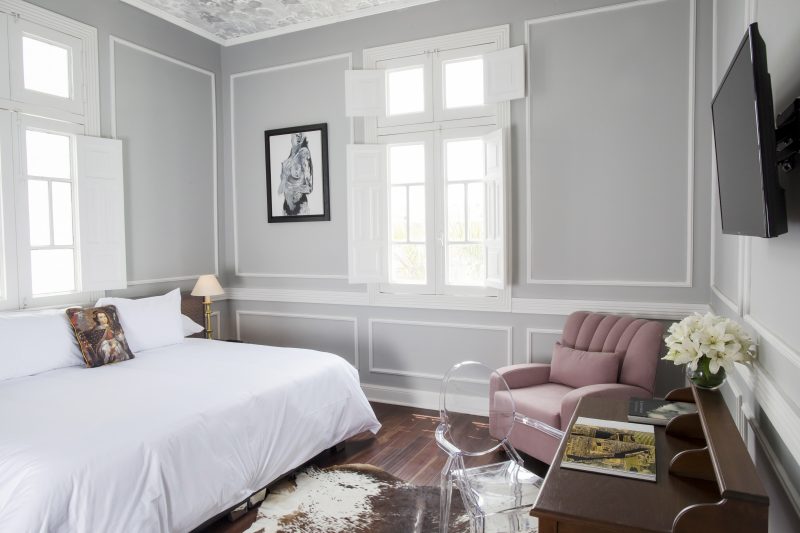 Casa Republica offers 22 guest rooms – all light and airy, featuring simple understated décor with clean lines and carefully selected artwork. The junior suites are expansive and offer garden views. The old and new are carefully blended – paying homage to the building's past, but confidently declaring itself as a contemporary boutique hotel equipped for the twenty-first century. Well-equipped en-suite bathrooms, air-conditioning, flat screen TVs, Wi-Fi are all standard, and amenities also include free bike loan to explore Barranco.
Communal areas include a garden and expansive roof terrace overlooking the Pacific Ocean. Breakfast includes a generous buffet and a la carte options.
Travel to Peru with Good Life Expeditions
If you'd like to make Casa Republica your base for exploring Lima, as part of a trip to Peru, get in touch with Good Life Expeditions. Our expert travel team are happy to offer advice and start planning your trip to Peru. Contact us today.