Spend today in the Andean highlands with a traditional weaving community of the Sacred Valley. This authentic experience is led by the non-profit organization of Awamaki, a group that works to preserve rural textile traditions and empowers women and girls with education and financial independence.
Sacred Valley Village Visit and Weaving Experience
During the group experience, you will visit a community where the women will share their incredible artisanal skills teaching you the entire textile creation process from spinning yarn, to natural dying, to weaving your own small bracelet! Starting in Ollantaytambo, a small, charming Andean town at the foot of ancient ruins, you will drive to one of the partner communities that Awamaki works with. Here the expert weavers, co-ops of talented women, will greet you with a hot tea and fresh flowers. Introduce yourselves (don't worry, one-page dictionaries on their native language of Quechua will be provided) before you begin the weaving lesson. 
Start by learning the different types of yarn that the women work with, and try your hand at spinning. Then your teachers will show you the natural plants they use to dye the yarn, by painting the striking colors on your skin. Watch the natural dying process, before picking a few colors and pairing up with a woman to start weaving your own bracelet. She will teach you the rhythm and pattern of the bracelet so that you can enjoy a beginners version of her incredible craft.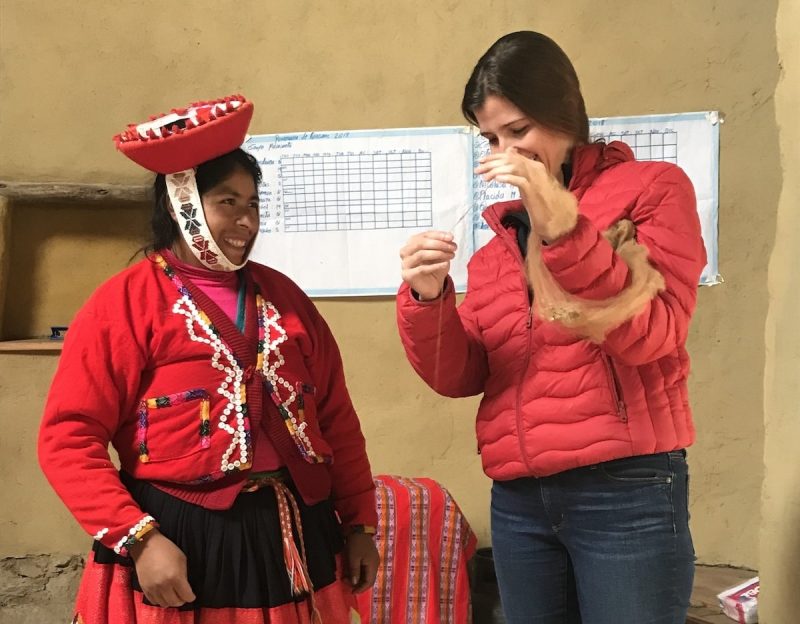 Following the completion of your bracelet, you will have a chance to purchase additional finely woven pieces, and then enjoy a traditional Inca pachamanca lunch with your new friends. The meal of potatoes, meat, beans, and more is cooked with hot stones in a man-made oven beneath the earth. This fascinating ancient tradition will be a delicious way to end a day of cultural immersion.
Responsible Community Experiences
Completely authentic in execution, this Sacred Valley village visit and weaving experience is one of our favorite community experiences. It gives you hands on interaction with ancient textile traditions, as well as one on one time with experts in their craft. The visit aligns with our responsible travel that gives back ethos, and we would love to book your tour on an Authentic and Transformational Peru trip. Contact us to get started!