For a completely immersive Amazon Rainforest experience, set sail on the Aria Amazon. Kick back, relax, and enjoy this journey through a natural oasis.
Aria Amazon
Refurbished in 2015, the ship has a modern aesthetic with state-of-the-art amenities. Housing 16 suites, it can accommodate up to 32 passengers. Four interconnected family suites are also available upon request. Each suite features outside-facing floor to ceiling panoramic windows, and air-conditioned en suite sitting areas. The vessel also offers a variety of social common areas including an indoor bar, outside jacuzzi, observation deck, boutique, and exercise rooms.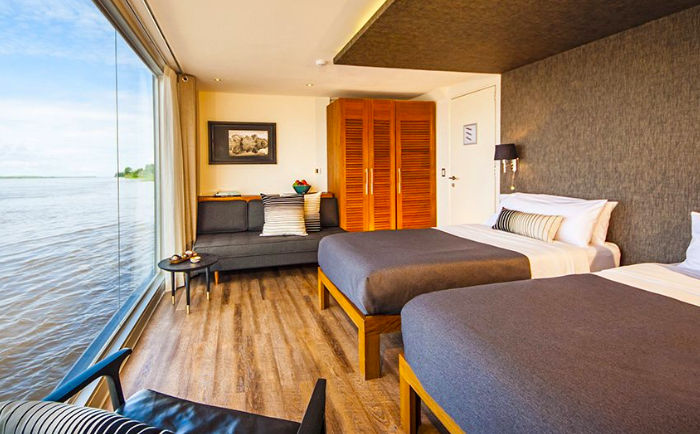 Service is key aboard the Aria Amazon, which boasts a 1:1 guest-to-crew ratio. Additionally, passengers will whet their taste buds with the exquisite cuisine of world-renowned consulting chef Pedro Miguel Schiaffino. His Lima restaurant Malabar is a distinguished dining experience. If you enjoy his food on board and want the opportunity to meet with him one-on-one, book our Chef's Table with Chef Pedro Miguel Schiaffino experience when you return to Lima.
Activities and Excursions
Sailing deep into the depths of the Rainforest, passengers will get a front-row seat to the unique Amazon ecosystems. Guests can choose between 7-night, 4-night, and 3-night itineraries departing from Iquitos to suit their travel needs. Each option offers panoramic views of the river and forest while learning about endangered Amazon River dolphins, taricaya turtles, and manatees. Start your day identifying exotic fruits in local markets, followed by lectures on the flora and fauna or hiking through the jungle. Then round out your evenings focusing the ship's hi-tech telescope on constellations and planets in the night sky.
Daily excursions are offered throughout your expedition, and feature activities like jungle trekking, kayaking, biking, and fishing. For a more personalized experience, excursions maintain an eight-person per guide ratio. Custom designed, private speedboats will transport passengers to all excursions. Passengers should note excursion offerings are subject to change based on high water season (November – May) or low water season (June – October).
Explore the Amazon with Good Life Expeditions
Want to plan your next adventure to the Peruvian Amazon with the added bonus of responsible travel? Good Life Expeditions is a travel agency passionate about creating transformational experiences, but also giving back to the communities we visit. Our expert travel team will take care of all the arrangements, from cruise reservations to special accommodations, and more. To start planning, contact us today.